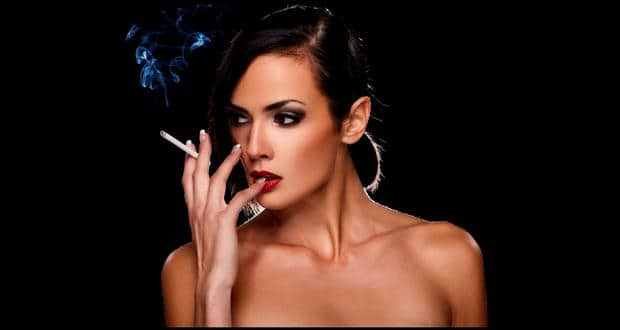 May 31 is World No Tobacco Day.
For as long as we can remember, smoking has almost been synonymous with sexiness. Be it the rugged cowboy that was the Marlboro man, the desirable Don Draper in Mad Men or our own 'Don' Shah Rukh Khan – all the desirable men seem to smoke. Even women weren't spared as brands tried hard to convince women that smoking was a symbol of feminism and equality. Cigarettes even came to be known as 'torches of freedom'. In time, the cigarette became synonymous with male and female sexual desirability. Perhaps we would do well to remind all the people out there what smoking actually does to their sex life.
Lighting up could let you down
According to sexual therapist and men's health physician, Dr Vijaysarathi Ramanathan, 'Smoking affects almost every system/organ of the body including sexual functioning. People need to understand that erection in men has a lot to do with a healthy heart, blood vessels and good blood flow. So anything that affects blood flow will definitely affect the erection. Evidence suggests smokers are twice as likely to get ED as non-smokers.' Nicotine also clogs your arteries with fatty acids, further restricting blood flow to the genitals. So next time you light up, think about it, it might make it harder for you to get it up!
Smoking affects your chances of becoming a father
It's not just enough that smoking makes it harder to get it up but it destroys your sperm as well. Dr Ramanathan says, 'Smoking lowers your sperm count, increases the percentage of deformed sperm and also causes genetic damage to the sperm.' Research suggests that smoking reduces men's sperm concentration by 23% and also hurts its sperm motility (sperm motility refers to the swimming capabilities of the sperm, which if it's unable to do won't be able to reach and fertilise the egg). It also deforms the sperm making it harder for it to swim and fertilise the egg.
In no mood for sex? Blame the cigarette!
Did you know that smoking affects your testosterone levels? Testosterone is a hormone present in both men and women which along with promoting muscle growth is responsible for libido in both the sexes.  When you light up, it actually raises your testosterone levels temporarily. But the long term effect is negative. What smoking does is increase the carbon monoxide content in your blood, which in the long run inhibits production of the hormone. The cadmium in smoke also interferes with zinc metabolism in your body and lower testosterone levels.
We hope that along with the fact that smoking causes heart attacks, cancers and stroke  the above reasons would give young men enough reason not to light up. As for the ladies…
Smoking affects your chances of becoming a mother
Dr Ramanthan says that for women smoking can cause a variety of sex-related problems, ' Smoking can cause early menopause, increase the risk of cervical cancer, causes menstrual irregularities and also greatly increase the chance of a stroke or heart attack in women over 35 who're taking the oral contraceptive pill.'
The major problems caused by smoking in women are related to infertility and pregnancy. It can reduce fertility by damaging their fallopian tubes by causing blockages which prevent the egg and sperm from meeting. It also damages the eggs as they develop in the ovaries. Women who smoke during pregnancy are also more likely to increase the risk of suffering a miscarriage, damage their eggs and the developing foetus.  Studies have also found that smoking can cause earlier menopause.
Cigarettes and oral contraceptives – a deadly combo!
Lighting up can be extremely dangerous for women who are using oral contraceptives or other hormonal birth control methods. Women who use the pill are at an increased risk of developing cardiovascular conditions like blood clots, heart attacks and strokes and the risk increases with age. In fact, women above 35 who smoke are asked not to use oral contraceptives at all. 
Smoking moms – the worst kind
Smoking during pregnancy is particularly dangerous, not only for the woman but her baby as well. Studies have shown that women who smoke are likelier to give birth to a premature baby. They're also likelier to have stillbirths. The main reason for this is the nicotine and carbon monoxide in cigarettes which combine to reduce the oxygen supply the baby gets by narrowing blood vessels in the woman's body, including the umbilical cord. By depriving babies of this vital oxygen, they can lead to a host of conditions the most serious of which is Sudden Infant Death Syndrome (SIDS) also known as crib deaths. It's called so because doctors find it hard to explain the reason for the death, even after an autopsy. Studies have found women who smoke are likelier to suffer from infants are three times likelier to suffer from Sudden Infant Death Syndrome than non-smokers.  
Along with this, studies have shown that smokers' babies are likelier to suffer from various other conditions. They are far likelier to be obese in later childhood or adulthood, likelier to have asthma and suffer from heart defects and other cardiovascular ailments.
All in all, smoking as we can see is horrible for the sex life of both men and women and worse for their child. Isn't that enough reason to quit? 
Question 1
Also read more articles on erectile dysfunction:
For more articles on male sex problems, check out our male sex problems section. Follow us on Facebook and Twitter for all the latest updates! For daily free health tips, sign up for our newsletter. And to join discussions on health topics of your choice, visit our forum.