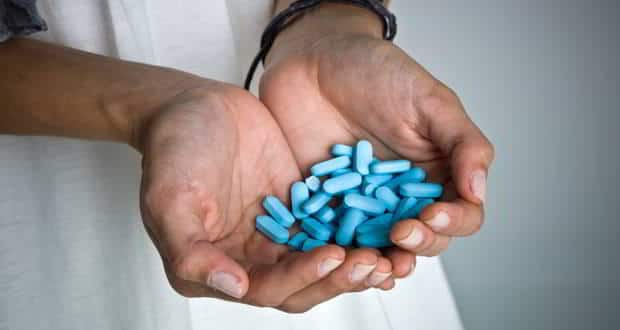 Men are obsessed with their penises, perhaps more than their women. Ways to increase length, girth, inclination, complexion and pretty much every other spatial quality are the most common queries we get on this site. So you can imagine the fear that impotence or erectile dysfunction (ED) must strike in the errr… heart of men. Erectile dysfunction or impotence is the inability to get an erection or maintain one during sex. Click here to read about the causes of ED. Till 1983 it was believed to be a psychological problem until a penis injection demonstration put that misconception to bed. So imagine the collective elation of the entire male population when Pfizer patented a drug called Viagra in 1996, a diamond-shaped blue pill that could give you an erection! The drug basically works by opening up blood vessels to the penis so that blood can flow easily, creating harder erections which last longer.
Who needs to take it?
Viagra is meant for men who have been diagnosed by a doctor to be suffering from Erectile Dysfunction. If sexual performance is unsatisfactory due to reasons other than ED, studies have suggested that it has no discernible effect and also might lead to dependency where frequent users find it hard to get an erection without taking it. The drug should be taken in the exact dosage and frequency the physician has recommended.
Who shouldn't take it?
Viagra isn't an aphrodisiac. It is not meant for people who want to increase their libido.

Viagra doesn't increase the length/size of the penis.

Viagra isn't a recreational drug meant to show off one's sexual prowess.

People suffering from cardiovascular problems, stroke victims, those who are taking nitrates for various ailments (like chest pain and/or hypertension), people who have been advised against sexual intercourse for various reasons should avoid the blue pill. Viagra shouldn't be mixed with other medications that treat ED.
Side-effects of Viagra
Like most drugs Viagra too has numerous side-effects.
Viagra users have reported facial flushing, headaches, liver problems, heart attacks (rarely), blurred vision, bluish vision and sensitivity to light.

The most infamous side-effect though is the four hour or more erection. Sometimes these erections can be extremely painful as well. Anyone experiencing this is advised to call a physician or visit a hospital immediately.
Alternatives to Viagra
Because of Viagra's immense popularity the market is swimming with Viagra copycats. Some common examples are:
Cialis (Tadalafil) and  Vardenafil: They work like Viagra but are known to cause more side-effects ranging from aches, coughs, hearing loss and even heart attacks. They have never proved as popular as Viagra. However Cialis lasts in the blood for 36 hours (earning it the nickname The Weekend Drug) and is preferred by some segments.
Generic Viagra: Because of Viagra's immense popularity "generic Viagra" is available in every pharmacy at one-tenth of the price. All pills that fight ED, aphrodisiacs and virility drugs can come under this umbrella term. Because of poor patent laws, pharmaceutical companies have reverse engineered Viagra after figuring out its ingredients and India remains one of the top markets and producers of generic Viagra. Because of lack of regulations and the absence of proper clinical tests, it is hard to pin down the harmful side-effects of generic Viagra.
Herbal Viagra: Herbal Viagra is any herbal product sold as a virility drug. Sometimes sildenafil is simply mixed with herbs and sold under this name. The most popular herbs are epimedium (horny goat weed), damiana, ginseng, ginkgo, yohimbe, saw palmetto, maca, Muira puama, and Tribulus terrestris. No clinical trials or scientific studies support the effectiveness of these herbs to treat ED. It has however been known to create low blood pressure and stem blood flow to other vital organs.
The bottom line is that Viagra indeed is a drug with immense benefits. Use it when your doctor prescribes it for you, follow the instructions precisely and you are on your way to beat erectile dysfunction.
Also read more articles on erectile dysfunction:
For more articles on male sex problems, check out our male sex problems section. Follow us on Facebook and Twitter for all the latest updates! For daily free health tips, sign up for our newsletter. And to join discussions on health topics of your choice, visit our forum.