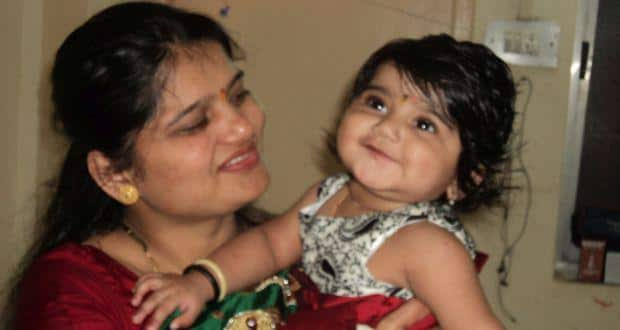 April 7 is World Health Day and theme this year is 'Vector-borne diseases – small bite, big threat'. 
Pournima Surve, 32, manager corporate communication and PR at Parag Milk Foods Pvt Ltd, is a happy mother, a dutiful wife and a promising professional. On the occasion of World Health Day, she tells us her story on how she battled malaria during her pregnancy to give birth to her daughter Mrunmayee. Here's her story in her own words:  
Today when I look at my daughter I feel very happy. Her little coos, those broken phrases, her antics, those sloppy kisses all makes my heart fill with great deal of joy. But there was a dark phase during my pregnancy when I was scared to the core, wondering if she was safe and secure within my womb. I was fit as a fiddle during the start of my pregnancy but somewhere mid-way I stumbled. And this was completely out of my control. I was down with a bout of malaria at the end of my second trimester which was a threat to both to my health and the baby's.
When my health went for a toss
I sailed through my first trimester without much difficulty. Yes I had my share of nausea and fatigue that bugged me but it wasn't severe to keep me homebound. I travelled from Karjat to CST to attend work, ate healthy, squeezed in time for exercise and smiled often reminding myself about the life growing within me. I almost sailed smoothly for the seven months of my pregnancy and then I suddenly started feeling under the weather.
I remember suffering from a nagging headache, felt feverish, fatigued and would shiver while sleeping in the nights. I realized instantly that I needed medical attention. I sought an appointment with my gynecologist Dr Somnath Lamture from Sphoorti Hospital, Badalapur. If I had not been pregnant I would have popped pills and kept the symptoms in check but as an expectant mum I knew the perils of self-medications. My doctor advised me to take paracetamol to treat the fever. He wasn't able to give me any higher doses of medication which could turn to be fatal during pregnancy. So there I was popping three paracetamol pills a day and spent the nights feeling giddy, feverish and shivering throughout the night. Almost a week passed and my symptoms didn't seem to reverse. This made my doctor and everyone in the family apprehensive. Soon Dr Lamture asked me to get a blood test done to check for the malaria parasite.
 Malaria — the name itself sent chills run down my spine. I thought to myself this wasn't the time for all this. I was pregnant and surely I can't suffer from malaria now, especially for my baby's sake. I needed to do as guided by my doctor. With a heavy heart I went for the test and couldn't sleep the entire night in anticipation of the results. And there it came, a clean report card that spelt good health and absence of malaria parasite. This report had put my mind to rest. But human body can play many tricks and be whimsical. I learnt this very soon. Though the report had missed to indicate malaria it couldn't explain why my symptoms refused to budge even with medications. And my headache with each passing day took a turn for the worse.
 Also my symptoms went into remission and came back with vengeance time and again. Since there was nothing that was indicative of a problem, my doctor suggested a second blood test. I did as ordered. But worrying about the test had to wait for sometime as my godbharai  (a traditional Hindu ceremony where the mother and baby are blessed by family friends and well-wishers)was nearing. I was excited and happy. The entire extended family, friends, well-wishers would be around to bless my baby. This is that one moment during pregnancy that every woman looks forward too. I secretly prayed that my symptoms would go away during the celebration without any fuss. And guess what they just did that. That evening my test report was due and when they came, indicated that I was suffering from malaria. Soon I was rushed to the hospital on the evening of my godbharai. This really came as a shock I was worried to the core that I would pass on this deadly disease to my baby.
 Getting started with the treatment
In the hospital I was put on saline and started on antibiotics. I received three injections of antibiotics throughout the day. I need to mention that I am scared of injection and avoided it for 30 years of my life. I took a tetanus shot only during pregnancy when I was supposed to. I lost appetite and felt weak and fatigued too. With the little strength that I had, I repeatedly kept on asking the doctor about my baby's wellbeing and if there was any possibility of passing malaria to my baby.
Now during pregnancy where immunity levels are already low, the chances of getting any kind of infection is higher. I was shocked that fate chose to give me a vector-borne disease during my pregnancy. Though I was lucky to get treated as soon as it was detected, I learnt that malaria during pregnancy can lead to certain complications. Some pregnant woman in malaria can also suffer from jaundice, anemia, hemorrhage, enlargement of the spleen and kidney failure. Thank God I didn't suffer from any of these serious complications. My symptoms were that of high fever, headache, chills with remissions of the symptoms and sudden reoccurrence of them.
Though malaria during pregnancy is a matter of concern for maternal health usually the baby remains unharmed from its effects as malaria is asymptomatic in pregnancy. But there is a slim chance of the baby getting affected if the malaria parasite is present in the placenta. So that was enough to make my mind go into overdrive with concern for my baby's well-being. In extreme cases, malaria during pregnancy can also lead to risk of stillbirth, miscarriage, low-birth weight in babies and neonatal death.
All this information was enough to add more stress and make me low, but my doctor assured me that I was still on the right track and my baby was safe and secure. After four days of the treatment, my symptoms of fever and chills receded but the headache refused to budge.  So my stay was prolonged. On the fifth day I was discharged with medications prescribed. I reached home with mixed feelings; I wasn't sure if I should be happy or keep worrying about my baby's health.
The rest of my days of pregnancy I kept my fingers crossed in anticipation of my delivery. Though I never faced any recurrence of the symptoms and gained back my strength. All this helped lift my mood and look forward to  a positive labour experience. Soon it was time to get into the labour room.
Welcome baby, welcome motherhood
 No matter what you want out of life, sometimes life will just give you the opposite. It did the same to me during my delivery. As I was praying for a normal delivery and anticipating it, I was informed that I had to be wheeled in for a C-section due to excessive water loss and slow progression of labour. This depressed me, but of course I had to put my baby's health before my own desires. The delivery was smooth and I delivered my daughter Mrunmayee healthy and hearty.
 But soon disappointment followed. After two days when I was able to sit upright, I tried to nurse my baby. I was in tears, my body didn't produce milk and I couldn't breastfeed my newborn baby! My doctor explained that malaria and subsequent medications had played a role in reducing production of milk in my body. Unable to breastfeed also gave rise to baby blues in me. But my family stood by me like a rock. It took time but I came out of it gradually. I started to bond with my baby in different ways – playing with her, bathing her, giving her the bottle, etc and all this made me realize that mothering doesn't just start and end with breastfeeding.
 When I look at Mrunmayee I feel extremely happy but there is a wound deep within me that also reminds me how malaria came in the way of breastfeeding, which is the first milestone of motherhood. But seeing her healthy, happy and playful also helps me to put the past behind and concentrate on the present with her. Motherhood is surely stronger than the deadly malaria. 
Also read more articles about the common vector-borne diseases in India: 
Dengue
 Chikunguniya
 Malaria
For more articles on World Health Day topics, visit our World Health Day section. Follow us on Facebook and Twitter for all the latest updates! For daily free health tips, sign up for our newsletter. And to join discussions on health topics of your choice, visit our forum.