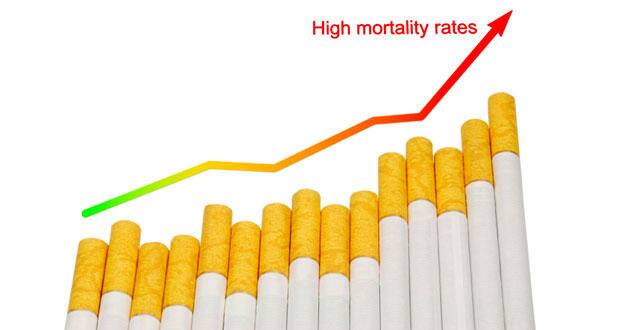 September 29 is World Heart Day.
India has 285 million smokers and about 138 million don't know that smoking can cause stroke (cerebrovascular accident). As many as 92 million aren't aware that tobacco causes heart disease. According to a report released by the World Heart Federation (WHF) on Friday, half of all Chinese smokers and one-third of Indian smokers are unaware of the risks tobacco pose to the heart. There is even lesser awareness about the dangers of second hand smoke. According to WHF, cardiovascular disease (CVD) kills 17.3 million people every year. Around 80% of these deaths occur in low and middle-income countries like India, which are increasingly being targeted by the tobacco industry. 
Tobacco use and second hand smoke exposure causes about 1/10th of global deaths from CVD. Secondhand smoke exposure increases the risk of heart disease by 25% and more than 87% of worldwide adult deaths caused by secondhand smoke are due to CVD. The report – Cardiovascular Harms from Tobacco Use and Secondhand Smoke – was commissioned by the WHF and written by the International Tobacco Control Project (ITC Project) in collaboration with the Tobacco Free Initiative at the World Health Organization.
 
Prof K Srinath Reddy, president of Public Health Foundation of India and chairman of Science and Policy Initiatives Committee, WHF, said, "Indians need to wake up to the threat of CVDs which are having a devastating impact on the nation's health, growth and development. Joint government and public action on tackling these diseases is the need of the hour. Our policies and programmes must focus on clearly informing the masses about the ill-effects of tobacco use and effective measures like pictorial health warnings on tobacco products must depict heart disease and stroke as real dangers of tobacco use." 
Professor Geoffrey T Fong, chief principal investigator of the ITC Project, said, "This report shows a broad correlation between poor knowledge of the risks of tobacco use and high levels of smoking prevalence. To break this link and reduce the deadly toll of tobacco, more needs to be done to increase awareness of the specific health harms." He added, "Our research shows that the risks of tobacco use to lung health are very widely accepted. But we need to attain the same level of knowledge and awareness that tobacco use can cause heart disease, stroke, and peripheral vascular disease and secondhand smoke can cause heart attack." 
Another big menace is smokeless tobacco and according to WHO almost 2 in 5 deaths among adults over 30 is caused by it. There is a general misconception that smokeless tobacco is harmless or less harmful than cigarettes and bidis but that's not the case.
According to WHO's Mortality Attributable to Tobacco Report, globally 12% of all deaths among adults aged 30 years and above were due to smokeless tobacco in 2004 compared with 16% in India, Pakistan (17%) and Bangladesh (31%). Direct tobacco smoking was responsible for 5 million deaths. 
According to WHO tobacco, smoke and smokeless could kill over 1 billion people in the 21st century.
According to the Global Adult Tobacco India Survey (GATS), 21% of the country's population is addicted to smokeless tobacco alone and another 5% percent smoke as well as use smokeless tobacco. Among smokeless tobacco products, khaini is used the most, followed by gutkha. Around 91% of female tobacco users use smokeless products like betel quid with tobacco is used the most, followed by gutkha and khaini. GATS says India spends approximately Rs 300 billion annually in both public and private spending on treatment of tobacco-related illness, accounting for about one-fourth of all health spending. 
Smoking is  also the leading cause of cancer and other chronic diseases. If that's not enough a recent survey revealed that tobacco use is estimated to have caused nearly 120,000 deaths across India in 2010, according to research carried out by the Toronto-based Centre for Global Health Research (CGHR) in partnership with Mumbai's Tata Memorial Hospital. Nearly 600,000 Indians die of cancer every year – over seven in 10 deaths (71 percent) takes place in the 30-69 age group, the most productive period of a person's life, says the report published in the latest issue of the Lancet medical journal. The study points out that Kerala had among the highest age standardised cancer mortality rates per 100,000 for men in the 30-69 age group (158.5 for all cancers and 53.9 for tobacco-related cancers).     
Read more about World No Tobacco Day: