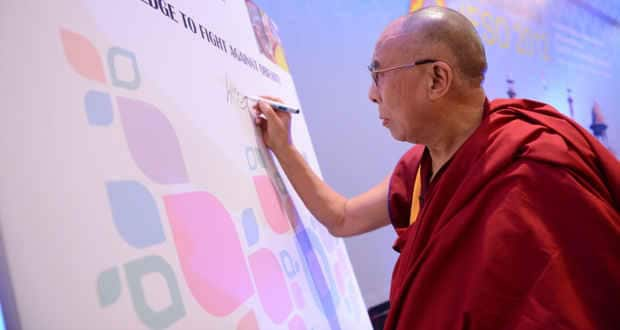 The fight against obesity has a new ally – the Dalai Lama! 1200 doctors and His Holiness congregated at the XVII World Congress of International Federation for the Surgery of Obesity and Metabolic Disorders (IFSO) organized by Max Institute of Minimal Access, Metabolic and Bariatric Surgery at Taj Palace Hotel.
Obesity is turning out to be a growing concern to the world's population with lower and middle income countries joining the bandwagon. According to the WHO's World Health Statistics 2012, one in six adults is obese, one in ten diabetic. The institute's findings revealed that about 5% Indians suffer from morbid obesity. Excess weight can lead to a variety of ailments like heart disease, diabetes, stroke and hypertension.
After inaugurating the event, His Holiness the Dalai Lama said, "It is indeed a pleasure to be associated with such a noble cause which Dr Pradeep Chowbey and his team is trying to promote through this conference – FIGHT AGAINST OBESITY. He further added, "Common man sacrifices his health in order to make money. Then he sacrifices money to recuperate his health. And then he is so anxious about the future that he does not enjoy the present; the result being that he does not live in the present or the future; he lives as if he is never going to die, and then dies having never really lived healthy. From today every individual should pledge to take care of their body and lead a healthy life."
 The event was attended by 1200 doctors from 65 countries. It also covered the latest surgical developments in the fight against obesity. This included the scarless surgery using the Spider Surgical System Technology which reduces the need for multiple incisions and is useful in various procedures. 
Also read: Lifestyle diseases on the rise in urban India