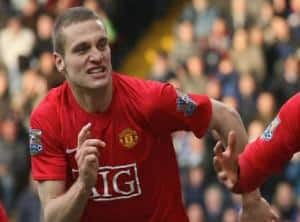 Manchester United captain Nemanja Vidic had to go off at half-time after being clattered by fellow team-mate and goalkeeper David De Gea. The Serbian defender looked very groggy after the contact and was seen spitting blood. Earlier, Arsenal's Polish goalkeeper Szczesny also seemed to be knocked out after clashing heads with Manchester United's Phil Jones but continued playing. Former Arsenal talisman Robin Van Persie put United ahead with a fine header from a Wayne Rooney. 
Head injuries and concussions have been in the news for the last week after Tottenham goalkeeper Hugo Lloris was allowed to continue playing after being knocked unconsciousness in last week's Premier League fixture between Tottenham Hotspurs and Everton. He missed this week's match and the midweek Europa League clash after Tottenham's medical department advised him not to play.  
Andre Villa-Boas' decision to allow Lloris to continue playing came in for vehement criticism from many quarters.  Headway's – a brain injury association- spokesman Luke Griggs told the BBC: 'When a player – or any individual – suffers a blow to the head that is severe enough for them to lose consciousness, it is vital they urgently seek appropriate medical attention. A physio or doctor treating a player on the pitch simply cannot accurately gauge the severity of the damage caused to the player's brain in such a setting as there may be delayed presentation of symptoms. By continuing to play, the player may have caused greater damage to his brain. He should have been removed from the game immediately and taken to the hospital for thorough tests and observation.'
Villas-Boas had earlier defended his decision He said: 'He doesn't remember it so he lost consciousness. It was a big knock but he looked composed and ready to continue.' Talking to BBC Sport, he added: 'Hugo seemed assertive and determined to continue and showed great character and personality. We decided to keep him on based on that. The call always belongs to me. Brad was ready to come in but the person Hugo is, there were enough signs for him to continue.'
Governing body FIFA also waded into the controversy with chief medical office Professor Jiri Dovak saying that according to FIFA guidelines, Lloris should have been substituted. He said: 'The fact the other player needed ice on his knee means it's obvious the blow was extensive. It's a 99 per cent probability that losing consciousness in such an event will result in concussion.'
'I know that the Premier League doctors are extremely good and I can imagine that the doctor may have recommended he be replaced. 'We have a slogan: if there is any doubt, keep the player out.' Guidelines from Headway and National Institute for Health and Care Excellence state people shouldn't play any contact sport for at least three weeks after suffering a concussion. 
Guidelines from Headway and the National Institute for Health and Care Excellence state people should not play any contact sport for at least three weeks after suffering a concussion. Griggs added: 'Sports science has evolved significantly over the past decade and yet we're still faced with the antiquated concept that a player should be brave and try to continue at all costs. Mr Villas-Boas' comments that his player's determination to play on was proof of his 'great character and personality' is simply wrong and dangerous.'
Dementia rugbyitis – a new version of dementia puglislistica?
There's a similar debate raging in rugby; in fact, Dr Barry O'Driscoll – a former Republic of Ireland international – recently resigned from his role as medical advisor to the International Rugby Board in October following concerns about the treatment of concussion. Research has shown that boxers, American footballers and rugby players, sports in which there's a higher chance of sustaining head injuries, are likelier to suffer from the early onset of dementia. The risk is higher when there's a second injury soon after a first one. Recently, Dr Willie Stewart claimed to have found a former rugby player who had higher levels of abnormal proteins (linked to dementia) than a retired amateur boxer. Research carried out involved an amateur boxer who was diagnosed with dementia pugislistica (punch drunk syndrome), a condition that affects 20% boxers after they retire. Symptoms appear 12 to 16 years after the boxer's career begins and include memory, speech and personality problems, coupled with tremors and lack of coordination.
The disorder has affected many boxers including Jerry Quarry, Sugar Ray Robinson, Joe Frazier, and Flloyd Patterson. Muhammad Ali is often included in this list but he actually suffers from Parkinson's disease which is also believed to have been caused by his boxing career.
Know your medical terms: Concussion
A concussion is a traumatic brain injury that alters the way your brain functions. It can be caused by not only an injury to the head but also if the person's head or upper body has been shaken violently. A concussion may result in loss of consciousness in some cases, but not everybody loses consciousness because of a concussion. That is why lots of people suffer from concussions and don't realize it.
Concussions are common if you play contact sports like Football or Rugby, but it is important to remember that every time you have a concussion, you are damaging a part of your brain. That is why it is important to give your body enough time to rest and heal properly. The brighter side is that most mild concussions are easy to recover from.
Symptoms of a concussion:
Because of the nature of the injury, most people don't realize they have had a concussion, but even so, there are a few common symptoms:
Headache

Temporary loss of concussion

Amnesia (loss of memory) about the event that caused the concussion

Confusion

Dizziness

Ringing in the ears

Nausea or vomiting

Slurred speech

Fatigue
In case of children, the common symptoms are irritability, listlessness, change in eating or sleeping patterns, lack of interest in playing and unsteady gait.
In case your child has hurt his/her head, it is important you visit the doctor, whether it is an emergency or not.
In the case of adults, you should see a doctor if the person has persistent vomiting, has been unconscious for more than 1 minute, shows change in his/her physical coordination, slurring of speech, vision disturbances, lasting or recurrent dizziness.
Lastly, if a person has suffered a concussion, it is important that he/she should not participate in high intensity activities like sports, etc. till they fully recover. 
With inputs by Pavitra Sampath
Loved this article? Vote for www.thehealthsite.com for the 'Website of the Year' Award and stand a chance to win goodies. Don't forget to activate your vote from your inbox.
For more articles, visit our Diseases and Conditions Section and for videos check out our YouTube Channel. Don't miss out on the latest updates. Follow us on Facebook, Twitter and Google Plus.