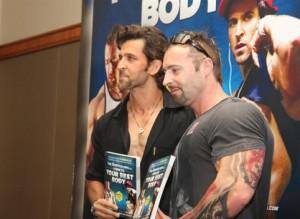 Yesterday, there was a news piece about Gold's Gym India banning Kris Gethin, a professional bodybuilder and celebrity fitness trainer to Bollywood hunks like Hrithik Roshan and John Abraham, from entering the premises of their gym outlet in Bandra. When contacted Althea Shah – Gold's Gym India's Head of Marketing and Public Relations – said that the ban was due to their policy of not allowing external trainers to take-up a gym membership at Gold's Gym.  This incident highlights the fact that many trainers like Kris have to face the wrath of gyms where they do not officially train. It is even more shocking considering the standing Kris has in the international bodybuilding circuit as the Editor-At-Large and main spokesman of the world's biggest bodybuilding site - Bodybuilding.com and the author of the best-selling bodybuilding book Body by Design. 
Q: What is your take on this ban? Does it happen in other countries as well?
Kris Gethin: I think it is absolutely absurd that a trainer should be punished for his profession. Does an actor get punished for his profession by being banned from the cinemas? No! I have been training at Gold's Gym around the world for over 13 years now and I have never heard of such a ban ever being imposed in any of these fitness centres in any country.
For over five years, I was given a privilege membership at the Mecca of Gold's Gym in Venice, California. To this day, they have two of my pictures hanging on that gym's wall. I moved to India to help with the nation's health and fitness education because overall, it is far behind many other countries, but with these practices being imposed by Gold's in Bandra, it only shows how far we have to go. We are all on the same team trying to fight obesity so we should be working together, not discouraging one another who are from the same field. 
Some say the ban was because the gym feared you were taking away their clients. Could that be a reason for your ouster?
Kris Gethin: I only train myself within their facility, not my client or theirs. I only train one client at a time for a period of three months.  Anyone who knows me will tell you that I am very low-key and keep to myself when working out. I have no intention of going into a gym in an attempt to steal clients.
Personal training is only 5% of what I do. I have other business ventures that take up the rest of my time and they all revolve around donating as much of my time as possible to helping people's health so as to live a better life. Without sounding egotistical, I turn down many more clients than I take on, and I get to choose who I want to accept as a client. I am not here to bad-mouth Gold's in Bandra and I am far from trying to deter people from working out there. I only want them to reconsider their ban, allow me and other trainers to pay our membership fee so we can utilize their facility because it is truly a great gym space. I would love for them to contact me so we can work this out and together improve the health of the nation.
A trainer from Talwalkars (a popular gym chain) said on the condition of anonymity that this is not the first time such a thing has taken place, it is an old issue. 'Major gym chains are always worried that star trainers will 'steal' clients from them and they're wary about letting professional bodybuilders train in their gym. There's also a worry that professional bodybuilders will use the gym to sell supplements, something that's still viewed with suspicion by most gym chains. While the gym's reaction is understandable given Kris's stature, banning him outright is uncalled for.'