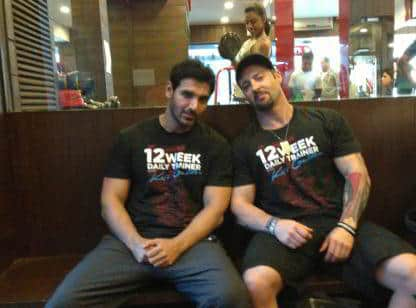 International fitness trainer and transformation specialist Kris Gethin who has trained celebrities like Hrithik Roshan, John Abraham and Mahesh Babu has partnered up with John Abraham to open various fitness centres across India.
They plan to open gyms under the name JA Physique Elite in 2014. Says Kris: 'We hope to open our first in the 4th quarter of 2014 in Bangalore. I will not be a fitness trainer but the lead trainer of transformation specialists. We are currently educating and lecturing trainers and will give more specific educational classes for those wanting to become head transformation specialists within these facilities.'
On being asked how did they come up with this concept, he replied: 'The idea came due to large quantities of enquiries from fitness experts and business owners in the country wanting to open a facility while licensing my name. I see a lack of education and accountability amongst trainers and gym owners.'
In the recent past, Kris had also witnessed firsthand that many professional trainers were denied entry and membership at gyms they did not train in. 'Some trainers are not allowed to take up a gym membership in other fitness centres that they don't work in. This is disrespectful to a personal trainer's profession so I want to give back respect to the trainer, provide them work that will motivate and educate, and an environment for the member that has only results as its priority,' says Kris.
For more articles on Fitness check out our Fitness Section and for videos check out our YouTube Channel.  Don't miss out on the latest updates. Follow us on Facebook, Twitter and Google Plus.