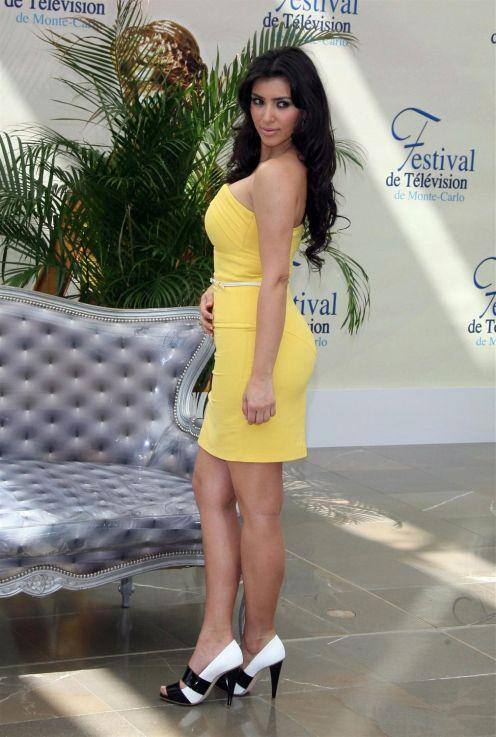 Socialite Kim Kardashian recently revealed that she feels sexiest when she is wearing high heels. "I feel my sexiest when I'm all dressed up at a photo shoot with full hair and make-up. I definitely need high heels to feel sexy, but that's because of my height – I'm short! – and I just look better. When I'm on a shoot, even if you can't see the heels, I put them on because they make me feel sexy," Kardashian told Cosmopolitan magazine.
"I hide from the mirror. It's the inner confidence that makes you feel sexy, especially when doing a lingerie shoot. It's always uncomfortable because there are a million people around doing the lighting and stuff, so it's not the intimate thing you think it is when you see the photo. You just have to give your best. It's a whole production but no one even pays attention," she said.
Perhaps the socialite is unaware about the debilitating effect of those high heels on her posture and general well-being. While most women may view high heels as a style statement or find them as an essential in their wardrobes, it could actually be proving bad for their health, a study has suggested.
 A first of its kind scientific study has found that lovers of heels walk markedly different from those with flat shoes and put greater strain on their calf muscles. Researchers noticed that stiletto wearers move with shorter, more forceful strides than women who wear flats. For the study, Scientists asked a group of young women, who regularly wear heels and others who do not, to walk barefoot.
Those who wore heels for more than 40 hours a week had feet that were constantly in a flexed, toes-pointed position even after they had kicked off their expensive fashion accessories. They take shorter, more aggressive steps and the fibres in their calf muscles shorten, placing a huge strain on their bodies.
Women who shun heels walk in a far healthier and efficient way. The study, published in the Journal of Applied Physiology, shows that after only two years of wearing heels, women are more likely to suffer muscle fatigue and strain injuries or topple over and injure themselves.  The researchers advise women to wear heels "once or twice a week" and remove them whenever they can.
Source: IANS