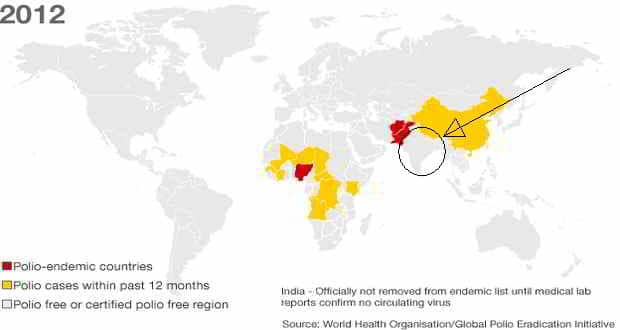 It's official. India has been taken off the polio endemic list by the World Health Organisation.
India, which has been polio-free for over a year now, was today taken off the list of polio endemic countries by the World Health Organisation. This announcement was made by health minister Ghulam Nabi Azad at the Polio Summit 2012 in the presence of Prime Minister Manmohan Singh.
Azad received a letter this morning which stated "WHO has taken India's name off the list of polio endemic countries in view of the remarkable progress that we have made during the past one year." The only three countries left on the Polio endemic list are Pakistan, Nigeria and Afghanistan."
According to protocol, India will have to remain polio-free for the next two years to achieve complete polio free status.
The Prime Minister, while extoling the achievement, said the real credit goes to the 23 lakh volunteers who repeatedly vaccinated children even in the most remote areas battling prejudice and ignorance.
He said the success of the effort shows that "team work pays".
Singh said, "This gives us hope that we can finally eradicate polio not only from India but from the face of the earth." If polio is completely eradicated it'll be the third disease to be vanquished after smallpox and rinderpest. Polio was completely eradicated in the Americas by 1991, in Europe by 1998 and in 2011 only 44 cases were reported worldwide, mostly from Pakistan.
This is indeed an amazing turnaround, considering that in 2002, Uttar Pradesh alone accounted for nearly two-thirds of the total worldwide cases. However 2011 was a completely polio free year, with over 17 crore children receiving the vaccine last Sunday. 
Picture Source: WHO/ Global Polio Eradication Initiative