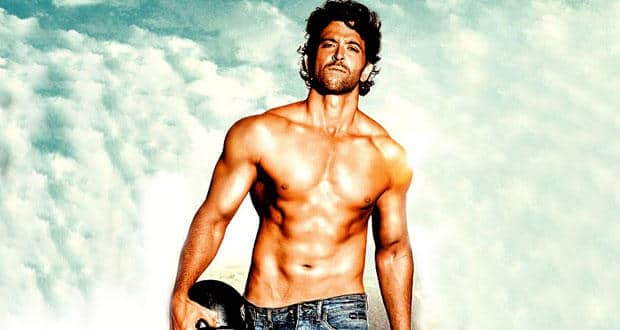 Most of us assume actors are born gorgeous with genetic material that will give them flat abs and rock hard bodies. We don't usually see them away from the media glare and assume they look as dashing in their personal time and space. 10 weeks ago Hrithik was in a bad place, smoking 3 packs a day, nursing his bad back and hogging on cupcakes.  Recently, Hrithik Roshan revealed his fitness and diet regime which helped him lose an incredible 10.5 kilos in 10 weeks. His waist size also decreased from 36.5 to 29.5 cm in that timeframe.
The best part is he did it without any crazy fad diets, starvation or a gruelling exercise regime. He says he owes it all to Kris Genthin (trainer) and Maraica Johnson (nutritionist). Hrithik followed a simple half an hour cardio and 1 hour work out regime later in the day. Since he has a bad back he avoided heavy weights.  He actually ate 8 meals a day! The secret he believes is the choices one makes while eating, how much they eat, when they eat and what they eat. He got rid of an amazing 10.5 kg and trimmed his waistline by 7 cm. His sister, who has battled weight problems all her life, lost 2 kg in a week following a similar regime.
His recent fitness regime has inspired Hrithik so much that he actually wants to enter the health market because he believes people are being fed a lot of wrong information through the media and advertising. He feels that anyone with the initiative and right information can get into shape, the important part is actually leading a healthy life, looking good is just part of the deal.