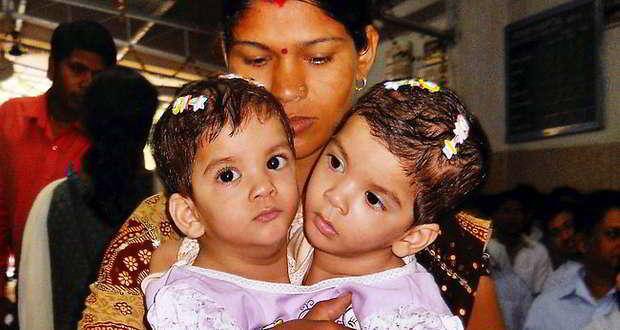 It seems like Aradhana's death is becoming a political issue. Yesterday, the Congress demanded that a case of culpable homicide be registered against MP CM Shivraj Singh Chouhan for the death of one of Betul's separated conjoined twins. The Congress allege that the BJP CM along with some other politicians entered the ICU where Aradhana was admitted without undergoing proper sterilisation, leading to her septicaemia infection.
Quoting administrator of the Betul's Padhar hospital Dr Rajiv Chaudhary, state Congress media cell chairman, Manak Agrawal said that till July 2, Aradhana had no septicaemia and was recovering. But her condition deteriorated after the CM's visit in the ICU, where she was put on a ventilator to join their first birth anniversary celebration in the hospital.
The Chief Minister touched Aradhana with his hands without taking any precautionary measures such as a sterilized glove, leading to transmission of virus he had come into contact with while shaking hands with the public during his interaction in election meetings, Agrawal added. Ironically, the CM had provided Rs 20 lakh from the Chief Minister's fund for the twins' operation.
 Agrawal and other party leaders went to the Shyamala hills police station to lodge a complaint against the Chief Minister but the station in charge turned down their demand. The Congress workers staged a protest before the police station for not accepting their complaint. Chouhan had visited the hospital after he campaigned through a road show for local body election. The CM's action, the Congress alleged, amounted to culpable homicide and he should be punished for it. Reacting to the Congress demand, state BJP president Prabhat Jha told media persons the Congress was trying to politicize the issue unnecessarily, adding he wished fast recovery of Stuti who is stable after the surgery.