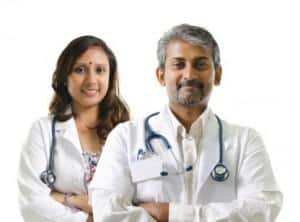 A Global Healthcare Summit organised by an influential body of Indian American physicians in Ahmadabad in January would focus on how to use modern technology more effectively in providing efficient care to patients.
As healthcare leaders, physicians need to embrace technology as their friend enabling them to understand and help their patients with chronic diseases, says Dr. Jayesh Shah, president of the American Association of Physicians of Indian Origin (AAPI).
Shah has just returned from India after a series of planning sessions for organising the 8th annual Global Healthcare Summit (GHS) 2014 at the Ahmadabad Management Association from Jan 2 to 5.
'This innovative Summit is aimed at advancing the accessibility, affordability and the quality of world-class healthcare to the people of India,' Shah said.
Among other areas, the Summit will focus on prevention, diagnosis, treatment options and share ways to truly improve healthcare transcending global boundaries, he said. (Read: Physicians of Indian origin seek more opportunities in the US)
'Innovations in delivery of care can improve patient care, especially about how smart mobile devices and applications, working in concert with cloud computing, social networking and big data analytics, will be at the core of global health care transformation,' Shah said.
'We at AAPI are glad to offer the delegates at GHS 2014, a unique opportunity to participate in a workshop on 'HIT: Application of Technology to Improve Patient Care,' he said.
'Technology is the next big blockbuster and truly has the potential to transform chronic disease care,' said Dr. Anuj Bhargava, an endocrinologist and president of Iowa Diabetes & Endocrinology Research Centre, who will be leading the workshop.
Dr. Nick Shroff, chair, AAPI Chairtable Foundation and co-director of Project-ECHO, India, who will lead a presentation on Telehealth & Project ECHO replication in semiurban India said, 'Extension for Community Healthcare Outcomes (ECHO) model has broad applicability to improve healthcare in India for chronic complex diseases.'
The Summit to be held in collaboration with the British Association of Physicians of Indian Origin (BAPIO), Canadian Association of Physician of Indian Origin and Indian Medical Association (IMA), the Ministry of Overseas Indian Affairs & Ministry of Health, will have participation from some of the world's most well known physicians and industry leaders, Shah said. (Read: Indian American doctor offers healthcare solutions to Indian government)
Source: IANS/Arun Kumar
Loved this article? Vote for www.thehealthsite.com for the 'Website of the Year' Award and stand a chance to win goodies. Don't forget to activate your vote from your inbox.
For more articles, visit our Diseases and Conditions Section and for videos check out our YouTube Channel. Don't miss out on the latest updates. Follow us on Facebook, Twitter and Google Plus.