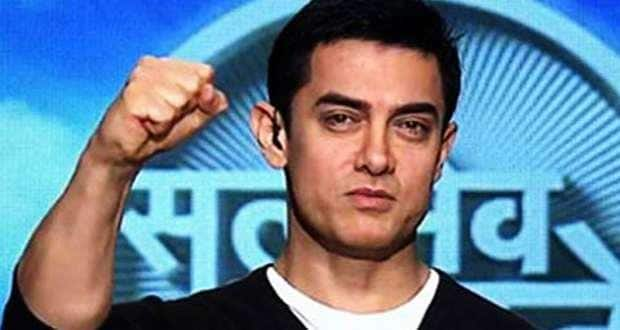 Aamir Khan's Satyamev Jayate is back to awaken us and show us the harsh realities of our society every Sunday morning. Here's what it had in store for us in the first episode of the second season.
Reeling under the Nirbhaya rape case impact, the episode began on a positive note showing how women are now taking a stand of 'enough is enough' against sexual violence and coming forward to report cases. But the sad truth that hits you as the episode unfolds is far from any real change in our mindsets. 2012 statistics point that a total of 1,01,041 rape cases were reported of which only 3,563 resulted in the accused getting convicted, 11,446 cases were withdrawn and these are only 10% of total rape cases as the rest go unreported. Many such shocking facts followed as the episode uncovered the trauma a rape victim goes through in our country to get justice.
While a rapist may walk scot-free, a rape victim needs to undergo several hurdles and relive the incident time and again for her case to go any further. Right from the pressing issue of police officials not registering FIRs which is mandatory, to the inhumane treatment they have to undergo for medical tests in a hospital and finally the long-drawn judicial trail and the societal backlash, the episode shed light on every aspect with several real cases, victims and activists coming forward with hard-hitting stories and facts.
Gut-wrenching real stories
A rape victim whose case has been stuck at the sessions court for the past 21 years came forward to talk about her ordeal. She gave all the information the police needed along with medical tests, time and place of the incident to get her rapist convicted but he was given bail, her case files got 'lost' and the accused in on the run ever since.
A family's plight when they found out their 11-year-old girl was raped twice and burnt alive despite filing FIRs and repeatedly asking for police protection, a family which had to shift base due to society's pressure and ill-treatment towards them after their second daughter was raped, and several stories about doctors' hostility towards such patients were shared. The two-finger test which involves a doctor inserting two fingers in the rape victim's private area and is against the Supreme Court ruling is still prevalent in various hospitals. There is still no protocol on how such patients need to be checked to preserve vital evidence which can help solve the case later was also one of the issues raised in the episode.
Aamir Khan spoke to several other such victims who faced appalling circumstances at the police station who refused to file FIRs or asked them to compromise with the situation or even questioned if they really were raped and not making up the whole thing. Truths of how women and even children are treated in the hospital where they are not given any medical care whatsoever or even if they are, it is done grudgingly as it not only is a waste of their time but also a cumbersome procedure which may involve the doctor to go to court as a witness. The unfair advantage of how the accused gets access to a lawyer while the victim meets her directly on the day of the trial and has to recall the incident in front of several others barring no detail shows the pitiable state of our judicial system. Read why India is the worst place for women.
Changes needed in a rape case
As if the rape isn't enough, the victim undergoes several degrees of physical and mental trauma even after the incident is long over. This is because the rape case isn't handled in a humane way. As one audience member rightly said – justice does not hold any importance if it isn't timely. But the silver lining is that several activists and institutes are coming forward to bring about a change in the system. Sangeeta Rege of CEHAT and Dr Nikhil Datar, a gynaecologist, have started an endeavour to help doctors across the country follow a protocol in rape cases. Already in process in three hospitals, it gives doctors a checklist of things and tests to be done on a rape victim. They also have a kit which gives all essentials needed for such tests. This will help speed the process and preserve essential evidence to help the victim's case. Read what you should know about the post-sexual assault medical procedure
Justice Usha Mehra too is working on implementing a one-stop rape crisis centre where experienced doctors take medical tests needed, senior police officers record statement, legal aid and forensic support is provided and within two months the verdict is out create a fear that rapists can't get away easily and an assurance amongst such victims that there is hope after this trauma.
All's not lost for rape victims
The episode also showcased how two rape survivors – one from a rural village and one from Kolkata's Park St, are fighting it out to put their offenders behind bars with their family's support and inspiring others to come forward and be the change they want to see. These two women not only retold their incidents but also how they managed to overcome society's glaring and judging eyes and stand up for their rights and live life again on their own terms. We salute every one of them and hope for a rapid change in mindset, legal and medical system in favour of the rape victims. Sona Mohapatra's rendition of an inspiring song of overcoming the ordeal and starting life afresh concluded the episode.
 Also read: 
 For more articles on Satyamev Jayate, check our Satyamev Jayate topic page.  You can also discuss today's episode of Satyamev Jayate on our forum thread. Follow us on Facebook and Twitter for all the latest updates! For daily free health tips, sign up for our newsletter. And to join discussions on health topics of your choice, visit our forum.