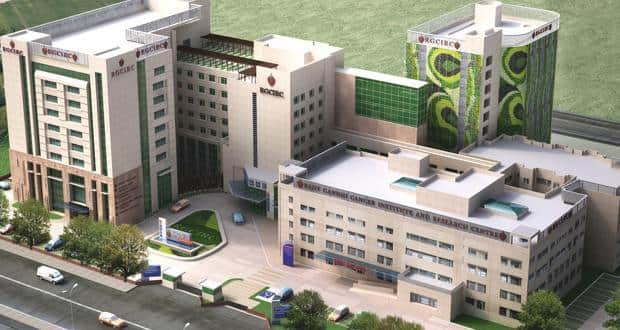 Rajiv Gandhi Cancer Institute and Research Centre is a visionary project of Indraprastha Cancer Society and Research Centre, a not-for-profit public society, aimed at providing the best of cancer care to those who need it. The premier institute was inaugurated by the then President of India, Dr. Shankar Dayal Sharma in 1996. The institute has treated lakhs of patients and will continually strive to treat and eliminate cancer, to provide an evidence-based high quality and focused approach to cancer care. RGCI & RC is responsive to the needs of patients and their families and as a part of an ongoing modernization program we are continually upgrading our services and equipment.
The philosophy of RGCI & RC is to constantly strive towards, excellence in onco-care through combination of latest technology, competent personnel and humane touch. This is reflected by the addition of Bone Marrow transplant unit, IMRT (Intensity Modulated Radiotherapy Technique), IGRT (Image Guided Radiation Therapy), Da Vinci Robotic system and a True Beam, a first of its kind in Northern India. This latest technology targets cancer cells in tumors, even in moving organs (lungs, prostate and kidney) with amazing precision while sparing the surrounding normal healthy tissues. Our True Beam system offers high precision treatments that can be delivered in a very short time. 
In cancer diagnosis, the Institute has installed a 40 slice advanced PET-CT in the year 2007 which is working at its full capacity now. PET-MRI Fusion Technology has been introduced. MRI guided biopsy is being done routinely at RGCI & RC. RGCI & RC is the first and only oncology centre to have PET-MRI Fusion & MRI guided biopsy, that makes it one of the best cancer Institute in India.
CO2 Laser for treatment of Oral Cancer, Dialysis Unit, Dental Department and EBUS facilities have been provided for better patient care. Rapid Arc, SBRT and Respiratory Gatting Techniques have been introduced in the dept of Radiation Oncology.
The quality of service of the Institute has been highlighted in the India Plus which states 'If you want to be impressed by a 21st century cancer hospital, this is it.' 
Rajiv Gandhi Cancer Institute and Research Centre has been providing high quality diagnostic, treatment and multi-disciplinary care for cancer patients for the last 16 years. It is unique in Northern India with the following features:-
It is a comprehensive Cancer Care set-up with all facilities for Diagnosis and Treatment of all type of Cancers

Its highly qualified and experienced oncology team is the hallmark of the organization

Its own integrated Cancer Research Programs and Laboratory

Its research program drives continuous improvements in all aspects of treatment and clinical care

It has modern state-of-the-art diagnostic and therapeutic equipments

First Hospital globally to qualify for ISO 9000 & 14001 Certification
If you are planning to visit the hospital here are all the details you might need. 
Address: The hospital is located at Sector – 5, Rohini Delhi – 110 085.  
Phone no.: They can be contacted at 011-26751000, 011-26568000
Website: Find out more about Rajiv Gandhi Cancer Institute and Research Centre .
Types of wards: General, special wards, speciality wise wards, Critical Care Unit, thyroid ward, bone marrow ward

Hospital type: Rajiv Gandhi Cancer Institute and research centre is a cancer specialty, tertiary care hospital.
Teaching/non-teaching: The hospital has the following teaching programmes:
Teaching –Fellowship Programme in Oncology,

B.Sc. Medical Technology (Radio Therapy)

Nursing Aides Training Courses

Diploma Course (DMLT, DXIT, DOTT & DMRT)
Accreditation: It has been accredited by NABH and NABL
Awards: The hospital has received the Greentech Environmental Excellence Award, 1999 and Golden Peacock Award for Environment Excellence, 2000
How to get there: You can reach the hospital by any of the following transport systems:
By Metro: The nearest metro stations are Rohini West and Rithala
By Road: Distance of Rajiv Gandhi Cancer Institute & Research Centre from some of the prominent places in Delhi are as below. If you are travelling by taxi, the hospital itself is a landmark. 
| | |
| --- | --- |
| AIIMS | 28 Km |
| Ashram Chowk | 35 Km |
| G T Karnal Bypass | 07 Km |
| ISBT Maharana Pratap | 19 Km |
| International Airport | 32 Km |
| Domestic Airport | 23 Km |
| Madhuban Chowk | 03 Km |
| Nizamuddin Railway Station | 28 Km |
| New Delhi Railway Station | 20 Km |
| Old Delhi Railway Station | 22 Km |
| Peera Garhi | 05 Km |
| Wazirpur Depot | 06 Km |
| Rohini West Metro Station | 0.5 Km |
| Anand Vihar ISBT | 30 Km |
| Ghaziabad | 38 Km |
| Gurgaon Toll Bridge | 35 Km |
| Noida Toll Bridge | 35 Km |
Ambulance services: They have an ambulance service, you can contact them at 022-26568063 / 2656 8064/9819778700
Next Specialities and Doctors at Rajiv Gandhi Cancer Institute and Research Center