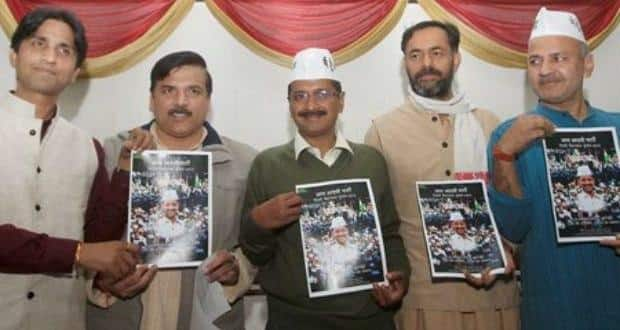 The Aam Aadmi Party recently released its manifesto which pointed out the rot in the nation's healthcare system and how India's public health system is in crisis. Lamenting how a serious illness can throw a family into a financial crisis, the AAP promised a 'Right to Healthcare' bill which would give everyone access to high quality services. Here's what the AAP promises in the health sector:
'India's public health system is in a crisis. A common man doesn't have access to good quality healthcare facilities and one serious illness can throw a family into a serious financial crisis. AAP is firmly committed to ensuring that every citizen of this country has access to high quality healthcare, irrespective of whether they are rick of poor. Towards this AAP will:
i. Introduce a comprehensive legislation 'Right to Healthcare' enabling access to high quality healthcare for all citizens. This would be along the lines of the Right to Education Act.
ii. Improve accountability of public health systems towards its users by decentralisation of funds, functions and functionaries to the appropriate level of local government.
iii. Guarantee that all essential drugs are available on a regular basis to public health facilities and made available free of cost to the people. AAP will incentivize states to adopt a transparent procurement system for bulk procurement of generic drugs.
iv. Improve the accountability of private health providers by making it mandatory for private hospitals to dispaly and observe a charter of patients' rights and to display rates and charges of various services. Ensure that private healthcare subsidised by the government honour their commitment to the aam aadmi.
v. AYUSH and local health traditions to make a significant role in public healthcare' greater public investment into research into these systems of medicine.
vi. Investing in human resources by ensuring that all vacancies are filled at the PHCs, developing a well-trained cadre of frontline grass workers.
Many of the promises are similar to the ones made by the Congress in its sector which also promised 'Healthcare for all'. But as the general public know by now, promises are to make and very, very hard to keep. So will AAP keep its promises in the health field? Only time will tell. And what does Narendra Modi and the BJP promise in the healthcare field? We don't know cause the BJP hasn't released its manifesto yet but will do so on Monday. Watch this space for more… 
Also read: 
For more articles on healthcare, visit our healthcare section. Follow us on Facebook and Twitter for all the latest updates! For daily free health tips, sign up for our newsletter. And to join discussions on health topics of your choice, visit our forum.