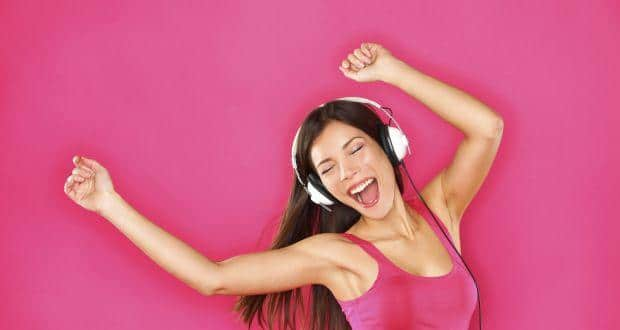 March 8 is International Women's Day. 
Friedrich Nietzsche once said, without music, life would be a mistake. We at TheHealthSite.com think that without music, workouts would be a mistake too. Listening to great music can really help you put more effort into your workouts. Considering it is Women's Day, we give you a list of 20 workout songs that will pump up your mood and add fun to boring gym sessions. 
1. Work, b***h by Britney Spears
Too offensive for your taste? Well, Britney does lure you with offers you probably can't refuse. The lyrics go something like this – if you want a Lamborghini, want to sip martinis and look hot in a bikini, then you better start working! Can't get yourself to work out in the morning? Set this as your morning wake-up call and you are sure to work out a bit extra. 
Had a bad day at work? Feeling low about yourself? Then listen to this song and inspire yourself to work out. Come what may, remember, baby you're a firework! 
3. I'm sexy and I know it by LMFAO
If you are a fitness enthusiast who's been working out for a long time, then this song is definitely for you. Even if you aren't that fit as yet, the extremely bold lyrics combined with at upbeat tempo will inspire you to work out. Being sexy is all about attitude and this song surely inspires one to shout out loud from rooftops that I'm sexy and I know it! 
4. Try by Pink
An inspirational song that starts slowly but picks up pace as it goes on. It's especially meant for women who have recently gone through heartbreak as the song tells you to put your troubles behind and try to do better things in life.  Don't get bogged down by life's pressures, instead turn the tide in your favour and for motivation you have this song. 
5. Don't cha by Pussy Cat Dolls 
Don't you wish your girlfriend was hot like me? You can only ask this question when you have the body to kill for and this song will give you the desired confidence and inspiration to work towards it. Don't you wish to have a body like Nicole or any of the other Pussycat dolls? Then work out!
Shakira has wowed the world with her hips that certainly don't lie, and in this song she asks you to unleash the she wolf that's somewhere in your closet. Certainly the kind of message you'd like to hear before working out! Let the adrenaline flow as you hear Shakira motivate you to do another set.  
7. Rolling in the deep by Adele
If there's a fire starting in your heart too, bring it on in the gym as you run on the treadmill. Adele has the ability to infuse her soul into her voice along with brilliantly written lyrics – and you have a song that you can work out to, time and again! Certainly a song worth putting on the loop during the entire exercise session. 
8. Don't you worry child by Swedish House Mafia
Your trainer making you do too many reps? Not seeing much results as yet? Listen to what these mafia say – don't you worry child as heaven's got a plan for you. But don't stop working out. This song is your musical motivation companion for days when you feel it ain't worth it and want to call it quits. 
At times, you only need good beats no matter what the lyrics say. And tik tok is one peppy number which gets your foot thumping on the dance floor and even in the gym. Switch to this song when you do an exercise you find most boring and concentrate on the beats to get it done quickly. 
10. Sexy, naughty, bitchy by Tata Young
Think you are getting there? Then sing along with Tata Young. This song is bound to make you feel extremely cool. Why? Along with having extremely good beats, the song rationalises the presence of three qualities that they certainly don't teach you at school – that of being sexy, naughty and bitchy. 
The song indulges the fantasy of many girls – that of being in a bad romance. If you are the type who likes to escape in another world to work out with more intensity, then this song is for you. 
Our very own desi girl Priyanka Chopra amazed the world with her drop-dead gorgeous body in this song. The song is quite peppy too, and great for working out. Especially, if you want to feel exotic and hotter than the tropic. 
13. Me against the music by Britney Spears & Madonna
What better than pumping it up while listening to two great pop stars. The lyrics of this song will make you feel competitive, self-obsessed and extremely focussed. It is especially good if you are working out in the gym, and want to avoid noticing the stares of people. Also read about rock songs that you can workout to.  
14. I gotta feeling by Black Eyed Peas
Make yourself happy and add a positive vibe to your sweaty workout by singing along that tonight's gonna be a good night. Even though you may know, that tonight will be a night just like any other, this song is bound to make you feel happy as it stresses on the importance of being in the moment. 
15. Hollaback girl by Gwen Stefani
The song is accompanied with energetic and rhythmic clapping in the background, which is what makes so many women love this song while working out. Don't clap but do sing along or tap your feet if you can. 
16. Bad girls by M.I.A/Nick Thayer
The song promotes a very hedonistic outlook towards life, and the lyrics go – Live fast, die young, bad girls do it well. But, it does so with extremely interesting play of music that makes it ideal for workouts, especially dance workouts. Don't get inspired by the lyrics per se but the beats. 
17. Don't stop the music by Rihanna

 Yes, we certainly wish that no one stops the music especially when we are working out! Though old, this song keeps us upbeat and in a peppy mood, making us work harder whether it is on the treadmill or weight training. 
Good vocalist, talented drummer and an extremely funky guitarist – this song is great for dance workouts. The song sets a happy mood and is difficult to get it out of your head. Read more about how music can help your workouts. 
19. On the floor by Jennifer Lopez
In a mood to party? Have one in the gym as you get on the floor to sweat it out and get a toned body. Let your inspiration be JLo. The song is perfect for working out because it tells you to forget everything, pick your body and drop it on the floor. 
20. Livin' la vida loca by Ricky Martin
Livin' la vida loca is a song that'll make the laziest of women get up and work out! It's also great for infusing energy in the middle of a tiring workout. The foot-thumping beats are sure to make you run faster on the treadmill. 
You may also like to read more articles from our women's month special
Celebrate the Women's Day with the HealthSite.com. Visit our women's health section for more articles. Follow us on Facebook and Twitter for all the latest updates! For daily free health tips, sign up for our newsletter. And to join discussions on health topics of your choice, visit our forum.