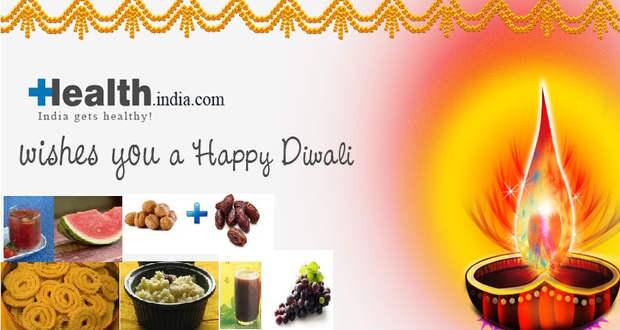 Diwali is a festival that we all celebrate with bright lights, sweets and family. This makes it very hard to maintain any sort of healthy diet. No, we are not giving you tips on how to stay away from good food – you can have your mithai, chakli and more and without guilt too! Here's how:
Make sweets at home with natural sweeteners:
Use natural sweeteners like dates, jaggery, honey or figs in sweets instead of sugar or artificial sweeteners. Various studies have shown that artificial sweeteners can cause side-effects like thyroid problems, memory loss, acidity and even obesity!  
Two healthy sweets you can prepare this Diwali:
 India.com health tip: The best time to eat sweets is either on an empty stomach or after a heavy workout. This is because when your body is low on calories, it does not convert the carbohydrates into fat, but uses it up for other functions.
 Bake your savouries instead of frying them:
If you thought you could shop guilt-free for your Diwali savouries in the low-fat variety, you're wrong. Those attractive packets of diet chakli, diet chivda or farsan can be deceptive. And despite what they claim, most packaged food items contain trans-fats which can be very dangerous for our cholesterol levels and hence our weight and heart health. Make your savouries at home. And opt to bake instead of frying them to cut down on fat. Here's a healthy baked chakli recipe you could try.
India.com health tip: Be a health-conscious host this Diwali. Serve snacks like dhokla, masala peanuts, unsalted dry fruits, sprout-chaat, fruit salad, idlis, baked chaklis etc. Avoid hoarding up on soft drinks or artificial juice. Serve nimbu-paani, jal jeera, chaas etc. You could try out these recipes for watermelon mojito and exotic grape surprise. Your guests will surely love it!
 Other tips for a guilt-free Diwali:
 Before going to visit friends and family, eat at home.
This will ensure you won't end up binging outside.Everyone struggles with loads of mithai and chocolates at home post-Diwali. Instead of eating them yourself so that you don't waste them, distribute them to people who are not fortunate enough.
Just because it's the festive season doesn't mean that you binge. We from www.thehealthsite.com wish you a very happy and healthy Diwali.