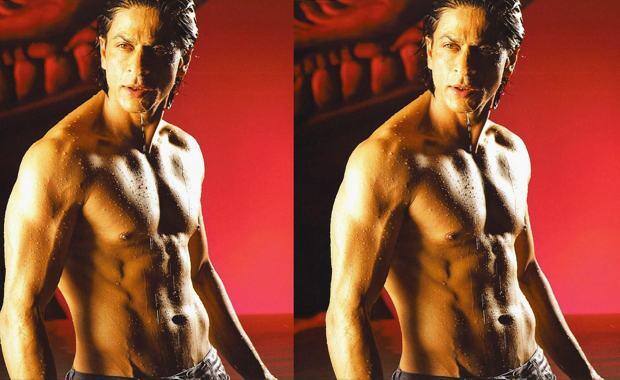 Shah Rukh Khan is one-of-a-kind. Whether it's celebrating his team's win at every IPL match, hugging Mamata Banerjee in public or shaking a leg at weddings, he's like a breath of fresh air that doesn't seem to be remote-controlled by PR agencies. He is politically incorrect and is absolutely unapologetic about his work. Perhaps that's what makes him King Khan and to top it off, whenever the situation demands, he gets in crazy shape to display chiselled six-pack abs that would shame far more junior actors.
So whenever he has to get in shape for a role, he follows a high-protein, low-fat diet regime combined with weight training and hits the gym around 4 days a week. His secret however, he claims is being hydrated which means drinking 8-10 glasses of water.
When on a diet, the King Khan stays away from breads and rice, ghee and sticks to lean meats like chicken and turkey. He also eats a lot of egg whites and paneer, and gets his carbs from veggies, legumes and whole grains. Whenever he craves sugar, he eats a fruit and also has a protein drink after every workout.
Shah Rukh Khan's fitness regime
His workout usually consists of weight training along with working on his abs, four times a week, and always makes sure there's a rest period between each weight training day. He also makes sure he gets enough cardio — 30-60 minutes of running, jogging, cycling or aerobics every day.
Shah Rukh Khan is actually pretty fastidious about his regime and his trainer Prashant Sawant travels with him whenever he has to go outside Mumbai for shoots. According to an interview Sawant did, SRK has a very high basal metabolic rate which allows him to do the most difficult of endurance training regimes. In fact, SRK has so much energy that he can go continuously for an hour and a half without stopping.
'He can run continuously at 15 kilometres an hour on the treadmill. What makes him such an adorable student of mine is that he never questions the routine I dish out to him every time he is here. No matter how tough the exercise is, he just goes at it and never falters. The biological reason behind this is not only his high BMR but also the fact that he oozes positive energy that makes it absolutely necessary for him to achieve high physical targets,' Sawant said.
SRK also has exceptional balance and can easily jump over four-and-a-half-feet high hurdles which perhaps explain how he can do such perfect cartwheels.
The only blemish on his perfect fitness regime is Shah Rukh Khan's smoking habit and an old spinal injury. Despite all that, the actor displays incredible enthusiasm for fitness and life in general.
Shah Rukh, Salman or Aamir – which Khan has the best abs in Bollywood?
 You may also like to read: 
For more articles on celebrity bodybuilding secrets, check out our celeb bodybuilding section. Follow us on Facebook and Twitter for all the latest updates! For daily free health tips, sign up for our newsletter. And to join discussions on health topics of your choice, visit our forum.