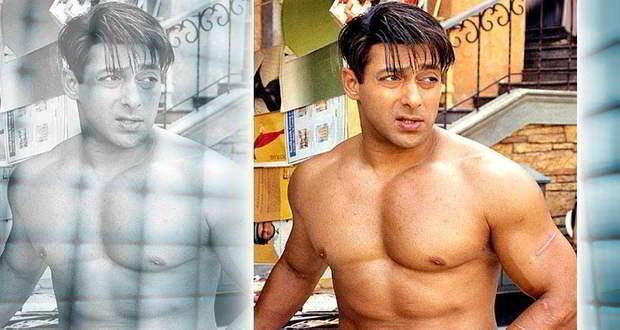 Salman Khan is the original Bollywood fitness poster boy. He was one of first onscreen Indian heroes to actually work on their physique and he did it long before six and eight packs became the norm. For over 25 years, the actor has maintained enviable fitness levels and this has led to the inevitable question, 'How does he do it?' Most people assumed that he uses steroids but insiders have debunked that rumour and claim that the secret is a gruelling workout regime.
Manish Advilkar, a professional bodybuilder and fitness trainer who has trained Salman for over six years says that the actor takes his regime very seriously. While most people assume that he only focusses on weights the truth is the actor has a very tough cardio-vascular regime as well.
He even cycles from Bandra to Panvel occasionally, an astonishing 50 km. It takes him three hours and it's a distance even professional athletes baulk at. He is actually known to do 1000 push-ups or 2000 sit-ups a day!
According to another insider, his workouts are usually two hours long and always includes one hour of cardio. When he does strength training, he concentrates on two body parts on any particular day – biceps, triceps, legs, back or shoulders. Of course we can't forget the actor's rock hard abs – he actually works very hard to keep them in shape. He does 500 crunches, pull-ups and chin-ups every day!
What's really interesting is the fact that Salman Khan's workout regime is as old-school as you can get and definitely something you shouldn't try to ape on your first trip to the gym. It takes time and patience to build up fitness and endurance levels like Salman's. He didn't get his strength and stamina in a day and it's a testament to years of hard work.
What does Salman Khan eat?
The most important thing is what he doesn't eat and that's junk food. The actor steers clear of all junk food and even tries to avoid synthesised food as far as possible. He eats normal food like meats, veggies and fruits. He gets the majority of his carbs from pulses. One interesting aspect of his diet is the fact that he loads up on lots of protein (chicken, egg whites and fish) which are absolutely essential to repair muscle damage. He also avoids anything sugary. Of all the celebrity diets or fitness regimes we've witnessed Salman's is the one that has the least frills. Not only that but he is known to take others under his wings and helped newcomer Arjun Kapoor shed 50 kg in 4 years! 
The best thing about Salman Khan's fitness regime is the fact that it has no frills, nothing fancy and everyone can follow it. So the bottom line is all you need is control, honesty and dedication to get that perfect body!
Shah Rukh, Salman or Aamir – which Khan has the best abs in Bollywood?
You may also like to  read:
For more articles on celebrity bodybuilding secrets, check out our celeb bodybuilding section. Follow us on Facebook and Twitter for all the latest updates! For daily free health tips, sign up for our newsletter. And to join discussions on health topics of your choice, visit our forum.