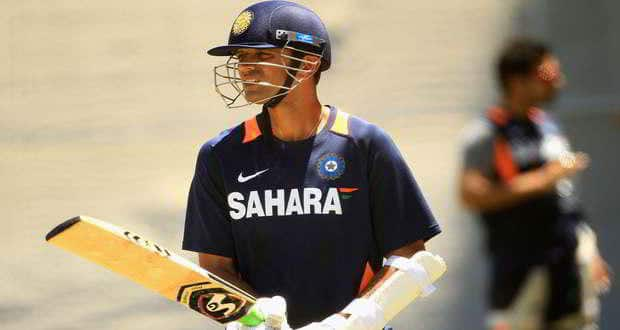 When Rahul Dravid called it a day, it marked the end of an era for Indian cricket. A lot has been said about his ability to play marathon innings so we decided to delve into his fitness regime to figure out what kept the man ticking for so long. And here's what we found out:
Fitness Regime
The Wall usually got up at 6 am for a metabolic run followed by a meditation session. A metabolic run consists of a variety of high intensity short sprints, a training regimen followed by elite athletes around the world. On match days he followed this up with shadow practise. Obviously all international cricketers have to be in shape but Dravid was in a class of his own when it came to taking care of his body.
You don't get the classic swimmer physique without doing some weight training and Dravid was very particular about hitting the gym, at least thrice a week. He preferred light weights to heavier ones because he really wasn't into bodybuilding but worked more on increasing flexibility, an absolutely vital trait for agile cricketers.
Overbuilding can lead to stiffness and professional sportsmen need to watch out for that. He preferred aerobic exercises and yoga, something that explains his longevity. He basically liked to mix up cardio and yoga to remain as lithe as possible. Dravid has conceded that exercising gets tougher as you age which means that one simply has to work harder to stay fit.
It's all in the mind
Like we mentioned before Dravid meditates for 30 minutes every day which helps him keep a cool head and gives him the mental prowess to deal with every situation. More than his physical abilities it is perhaps this quality, the ability to focus in the toughest situations that has defined his rein atop world cricket.
Winner's Diet
One of the fittest cricketers around, Dravid looks like a man who watches what he eats. This is even more impressive considering he has been playing cricket long before sports nutrition became the norm. During games he stays away from sweets as he feels they make him sluggish on the field. He keeps sports nutrition packets handy which aid his recovery. Sports nutrition packets usually contain nutritional supplements that promotes muscle relaxation, increases post-workout rehydration and speeds overall recovery, maximizing a person's ability and helps him train harder every day.
It was an honour to watch him represent our country and we from www.thehealthsite.com  wish him the very best for his future endeavours.