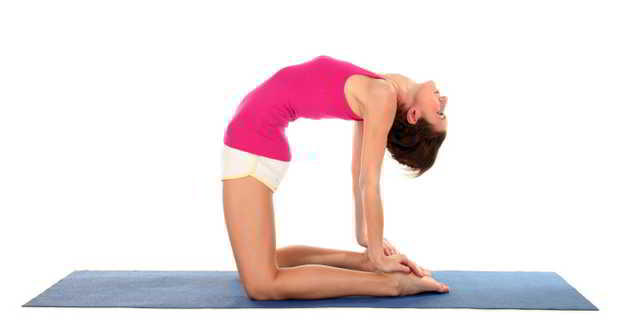 What do you get when you add a little pace, more strength and a sizeable quotient of glamour to yoga? That's right – power yoga.
The ancient art of yoga isn't alien to India, where it took roots thousands of years ago. This art of meditation for mental, physical and spiritual health has grown exponentially in popularity in recent years, especially in the West. But interestingly, another offshoot of yoga was born there in the late 90s and is called power yoga.
What is power yoga?
Power yoga is a more dynamic version of traditional yoga – it's faster, more intense and the focus is more on building strength and less on meditation or chanting. And while in yoga there's a fixed set of asanas, in power yoga teachers have more flexibility in terms of arranging postures according to their preferences.
It's believed the new technique was created by Beryl Bender Birch of New York and Bryan Kest based in Los Angeles to make yoga more interesting for westerners.
What are its health benefits?
Since power yoga is more physically demanding, it is more enjoyable for those who are fit – like athletes and sportsmen.
Power yoga enthusiasts say it enhances stamina, flexibility and better focus. Like any other physical activity it relieves the body of tension and sweating helps release toxins. It is also said to improve posture and help those with back ache and spinal problems by restructuring bone structure.
However, teachers of conventional yoga, which is believed to be more holistic, more or less condemn power yoga labelling it a commercialisation of yoga that's nothing but a money-making sham.
Many studies abroad have exhibited tremendous advantages of yoga – lowered cholesterol levels and blood pressure, increased cardiovascular circulation and even helping de-clogging blocked arteries. It's also said to have helped menopausal women suffering from insomnia and mood swings by introducing poses that massage the pituitary, hypothalamus and thyroid glands.
But there haven't been any conclusive studies that prove that power yoga is as beneficial as yoga.
'I have tried both yoga and power yoga and yes, there is an obvious difference between the two – while the conventional form of yoga  is intended for relaxation and rejuvenation, power yoga is more intense. It's more of an exercise than meditation or relaxation,' says Aparna Nair, a 20-something Bangalore-based lawyer who gave yoga a try to escape the daily stress of a hectic life.
'I have also noticed that yoga teachers more often than not condemn power yoga. They say there's no such thing as power yoga! I would say power yoga is meant for those looking to burn calories but if I have the time and energy, I'd choose yoga over the power yoga,' she adds.
Avoid power yoga if…
…You aren't fit. Power yoga, at minimum, requires you to be moderately fit otherwise the physically intensive asanas can leave doing more bad than good.
…You are pregnant. This doesn't mean that you should stave off it; rather as pregnancy advances, there are certain asanas one must avoid.
…If you are looking only to meditate. Power yoga is essentially another form of strenuous physical exercise and focuses more on that than chanting or meditation. Having said that, it depends on teacher to teacher how they incorporate power yoga with meditation.
…If you suffer from a chronic physical ailment.
Vasundhara Maheshwari, Centre Head of Mumbai-based Vivekanand Yoga Anusandhan Samasthana has been teaching and practising yoga for 20 years. The institution introduces yoga enthusiasts to Dynamic Energising Yoga or DEY, which aims at combining fitness regimes with yoga to provide a more holistic practice.
'If one is suffering from a lower backache, slip disc, hernia, any kind of spinal injury or frozen shoulder, they should not choose DEY. We suggest them to first strengthen their body through conventional yoga and then if they are fit enough, they can move on to DEY. For pregnant women, we design a course that takes into account which trimester they are in,' she says.
Can those with psychosomatic problems (such as Alzheimer's or Parkinson's) practice DEY?
'Yes, but not directly. DEY needs strength so one must begin with breathing exercises. They also need to strengthen their intellect and once they have achieved both they can practice it,' says Vasundhara.
Is power yoga more beneficial than yoga?
There's no real comparison between the two. Although the foundation of both is similar, people choose one over the other for completely different reasons. One is for meditation and the other for physical prowess.
The lowest common denominator is still stress management and flexibility so you have those two in the bag. But experts agree that a more holistic approach is always more beneficial. Too much stress on physical exercise and you miss out on the mental and spiritual quotient of yoga.
The principle objective, after all, is to harmonize the mind, body and spirit. So if you are on the lookout for salvation, make sure you choose wisely. The power of yoga is immense but it's not concentrated only in power yoga.
You may also like to read:
Know your yoga asana
For more yoga, check out our yoga section. Follow us on Facebook and Twitter for all the latest updates! For daily free health tips, sign up for our newsletter. And to join discussions on health topics of your choice, visit our forum.