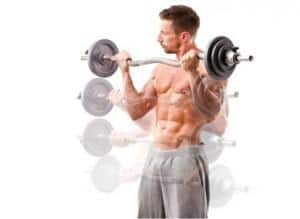 The biceps curl is one of the most popular exercises among gym-goers of all vintage and can be done with a variety of different equipment including the cable machine, dumbbells, barbells, E-Z or 'bent' bars. They all help strengthen and build-up the brachii muscle in the biceps.  
The motion of the biceps curl remains more or less the same irrespective of the instrument used and we're going to explain it using a barbell.
Kris Gethin's tips to do a proper biceps curl:
Stand up straight holding a barbell with a shoulder-width grip. The palms of your hands should be facing away from your body and your elbows should be close to your torso. This will be your starting position. Exhale and curl the barbell upward by contracting your biceps. Be sure to keep your upper arms stationary; continue raising the barbell until it reaches shoulder level. Hold the contracted position for a brief moment. Inhale as you slowly lower the bar to the starting position.
You could also try these exercises for stronger shoulders:
The exercise tip is an excerpt from his book The Bodybuilding.com: Guide to Your Best Body. Also read other excerpts from the book – 'Tips to lose belly fat', 'How Hrithik transformed his body' and 'Exercises for Toned Legs',   'How necessary are bodybuilding supplements for results'. 'The Bodybuilding.com: Guide to Your Best Body is authored by Kris Gethin and published by Simon & Schuster (2013). It can be purchased online on Flipkart. Watch this space for more excerpts from the book. Read about the launch of the Indian edition of the book here. 
For more articles on exercises, check out our know your exercises section. Follow us on Facebook and Twitter for all the latest updates! For daily free health tips, sign up for our newsletter. And to join discussions on health topics of your choice, visit our forum.