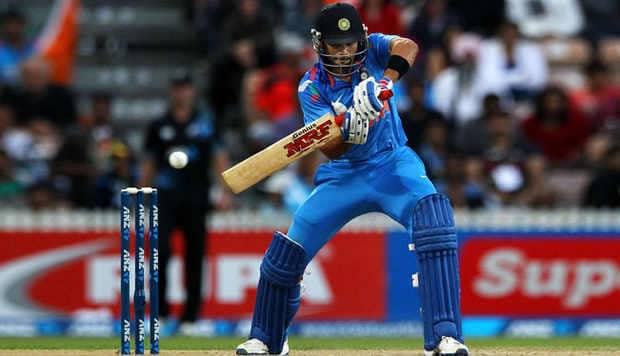 Every sport has one of these – Real Madrid VS Barcelona, Yankees VS Red Sox, Boston Celtics VS Los Angeles Lakers, Ali VS Frazier, and Agassi VS Sampras – a rivalry so intense that the entire world stops whatever they're doing to witness it. With all due respect to the Ashes, in cricket it has to be India VS Pakistan. And the neighbours are set to battle each other in the upcoming Asia Cup match on March 2.
Like most other rivalries, it stems from issues that transcend the sport and it is one match neither side will want to lose.  While the respective teams' batting, bowling or fielding abilities will play a role in the outcome, so would their mental strengths. It will all come down to who wants it more.
Cricket and other sports in general have accepted the role that mental toughness plays in shaping the outcome and sports psychologists and motivational speakers have become a routine part of most teams' entourages.
When the India lifted the World Cup in 2011 by beating Sri Lanka in the final, Sachin Tendulkar acknowledged the role of explorer, adventurer and motivational speaker Mike Horn who helped out with the Indian team's preparation at former coach Gary Kristen's behest.  He had said: 'I would like to thank the support staff especially Mike Horn who joined us at the start of the tournament and was there for our last couple of games. He worked on the mental side and has helped us deal with the expectations and pressure.'  Interestingly, the last time India faced Pakistan in the Asia Cup it was Sachin Tendulkar's last ODI match. Current captain Virat Kohli who is standing in for the injured Mahendra Singh Dhoni,  plundered 183 while helping India chase down Pakistan's target.
Read what injury is Mahendra Singh Dhoni suffering from? 
Not always so…
It wasn't always so though and seeking help of the mental kind was considered 'weak and unmacho' in sports, particularly a heteronormative sport like cricket.  Sir Ian Botham had once said:  'Sports psychology, what's that all about? It's the biggest con of all time, people making a lot of money talking bullshit. In Australia, a sports psychologist came to me and said he was writing a book, could he ask me a few questions? I said: 'What's your field?' 'Cricket,' he said. 'Oh, how many Tests did you play?' 'Erm, I never played first-class cricket.' 'Well, piss off then… what can you tell me about walking out in front of 100,000 people?'
It's hard to shake this old school thinking but this notion has changed over the years. Rebecca Symes, sport psychologist with the Surrey CCC academy, alloutcricket.com: 'There is a massive misconception surrounding the role of a sport psychologist and how they're only there to fix problems. It's a particular issue in sport, where there's a stigma attached to going to see a psychologist, and if you do go to see one, then it means you're weak.'
The Final Frontier
Jeremy Snape, a former England cricketer and founder of a company offering sports and business performance coaching agrees. Snape, who has worked with South Africa and IPL team the Rajasthan Royals also told the aforementioned website:  He believes the role of a psychologist is to 'work with a player to develop a toolkit which allows them to cope with the on- and off-field challenges that their sport will throw at them, including coping with injury or travelling away from home for longer periods of time. The 90s was the fitness revolution, the 2000s have been the 'sport science and analysis' decade and now the next frontier will be the mental one.'
The match-winning techniques
So while a sports psychologist could never really experience the feeling of walking out to bat in front of 100,000 angry fans he/she can definitely help cricketers' fix their minds while playing. This is done by putting players under match-like situations until their brain gets used to it completely.
You must have seen cricketers muttering to themselves and must have thought they are using cuss words. Chances are that they are following their psychologist's instructions to use self-affirming words to motivate themselves. Research has actually shown that these techniques work. These self-assurances release dopamine which is linked to greater belief in one's abilities. On the other hand, stress is related to the release of the hormone cortisol which in turn reduces your brain's ability to function properly. Psychologists actually call this practise squashing ANTs (or Automatic Negative Thoughts).
Another common technique is to counter sledging by saying something to yourself that will calm you down. Premier League footballers in pressure situations actually say the word 'ice' to themselves to calm down when they're about to lose it. But cricket is a more mental game than football and being able to run faster won't necessarily make you a better bowler if you crumble under the pressure of a marauding batsman. On the other hand, tackling the mental aspects would allow cricketers to tackle the psychological aspects better. Thus in time, the very best batsman can start to get into the bowler's head and predict even before they start their run-up, where they're going to pitch the ball which will give him more time for shot selection.
Another important aspect is visualisation, imaging yourself hitting a six or holding the cup in your hand. This practice of visualising long-term and short-term goals makes one believe that they're capable of it. The experts call it minding the four Cs – concentration, confidence, control and commitment. Jeremy Snape points out:  'Commonly, cricketers have no idea of how to shut out pressure or technical thoughts as they bat or bowl. A batsman may bat for over 3 hours in scoring a hundred but is only actually batting for around 8-10 seconds per delivery. It is how well we analyse and how well we switch off that determines our success. Being able to make this switch could be as easy as refocusing your attention on the good things. Don't magnify what you are doing wrong, look in detail at when and how you are at your best.'
 Hopefully, Kohli and co. will remember this tomorrow when they get set for the biggest cricket match on the planet.
Follow the all-new site on Facebook and Twitter. Catch the Live Score of India VS Pakistan Asia Cup 2014 Match here.