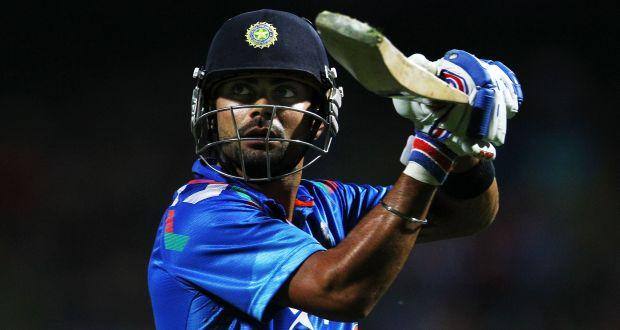 Every young boy playing cricket dreams of one day leading the country in an India VS Pakistan match. Angry young man Virat Kohli is living this dream as he leads his nation in the Asia Cup 2014. It's almost inconceivable that the same angry brash Delhi lad who'd swear at anything that moved and flipped the bird at a crowd is now leading our nation. 
1.  Confidence (Is in his nature)
When Virat Kohli started as a player, a lot of people thought that he had the talent but was too cocky to make it to the list of legends. You could always see him using cuss words on the field, and in a test match against Australia, at Sydney, he even showed his middle finger to the crowd. However, consistent performance with the bat along with assistance from great leaders like MS Dhoni, Gary Kirsten, Anil Kumble and Ray Jennings has made sure that stardom and early success wouldn't go to his head. And, having overcome many challenges as a player (he's scored runs across the world), he'll be confident about the Ind Vs Pak game as a captain too.
2.  Anger (At his bowlers)
The previous match (the game against Sri Lanka) was lost due to the inability and inexperience of the bowlers, and you could see Virat Kohli getting a little agitated on the field. It's unlikely that Kohli would have given them a piece of his mind, but he must have made it clear that their performance was not the best they were capable of and certainly not something they could afford to repeat against the Pakistanis. Here are some things Kohli should do to keep his anger under control.
3.  Competition (Pakistani bowlers)
Kohli can't obsess too much about the performance of his players, as his style of leadership requires him to lead from the front. As a batsman, Kohli would be eager to perform against the Pakistani bowlers who are famous for their precision and guile. It is highly likely for Kohli to be watching videos of Shahid Afridi, Saaed Ajmal and Junaid Khan and thinking of ways to counter them on the field.
4.   Doubts (He could lose)
An India vs Pakistan match is arguably the biggest rivalry in cricket, and losing this game disappoints a sizeable population of people in both countries. The Indian batsman may falter against the Pakistani bowlers and the team might ultimately lose the match. His own batting may not help him, and he could get out cheaply due to a moment of indecision. Also, losing the last game may have made him lose trust in his bowlers. Yet, Kohli should put these doubts aside and look forward to the next game. According to Himanish Bhattacharjee, Sub-Editor of Wisden India, 'Kohli would definitely have wanted to lead India to a win in the Sri Lanka match, but I don't think the loss would dent his confidence too much going into the next game, especially since it is against arch rivals Pakistan. Indo-Pak clashes induce an automatic pump for both sides, and the inexperienced Indian side would be desperate to prove their mettle. Kohli himself confirmed this at a post-match press conference saying, 'The span of making one mistake and the second one should be long enough for you to be a potentially good player for the country.''
5.   Ideas (How to win)
Cricket is a game where the mind plays an important role, and with all the experience that he has, Kohli would be buzzing with ideas to get the better of Pakistani players. How to unsettle the rhytm of their bowlers, how to put their batsman under pressure, how not to get overwhelmed by the occasion – these are all things that Kohli's mind would be imagining right now. 
6.  Affection (For Anushka Sharma)
Even though, Kohli has never admitted it himself, a lot of people believe that he is seeing Anoushka Sharma. Sharma's constant giggling at the mention of his name in a recent Koffee with Karan episode, along with a photo of them walking hand in hand in New Zealand only strengthens the authenticity of this news. When Kohli's mind would be overburdened with thoughts of the game, and the pressure of being a captain, he is likely to seek support from Anushka.
7.  Dreams (Of winning the Asia Cup)
The winner of the India-Pakistan game is likely to play in the finals with Sri Lanka, according to predictions from experts. If India win this game, and the final too – Kohli would have managed to lead a young side to a victory in a major tournament, thus establishing his credentials as a leader. Read more about the benefits of dreaming. 
We wish Kohli all the best for the match, and hope that he keeps his mind calm and focuses purely on playing good cricket. 
Also read:
Follow the all-new site on Facebook and Twitter. Catch the Live Score of India VS Pakistan Asia Cup 2014 Match here.