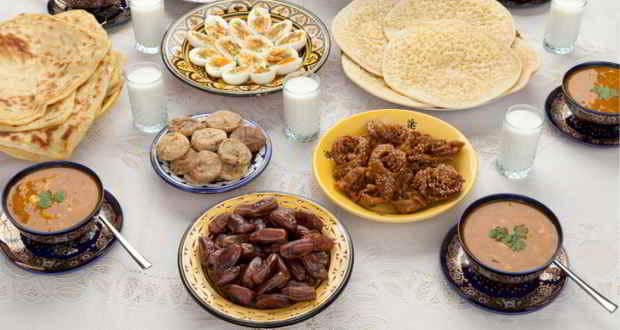 Ramadan is that time of the year when Muslims fast for a month during daylight and feast at the break of dawn and at dusk. This is the time when one can face serious dehydration due to no water consumption during peak sunny hours of the day and muscle loss due to lack of food intake. Since one cannot eat regular meals, they must try to make up for it early morning and in the evening when they break their fast. It is highly important that one gives their body the nutrition it needs when they eat or else it can lead to health problems since the fasting continues for a month. Keeping this in mind, our nutritionists Naini Setalvad and Neha Chandna have devised a special diet plan for people fasting during Ramadan.
Naini advises to start the day with water followed by veggie sandwiches or oats with veggies and nuts. In the evening, break your fast with water again and eat dates and fruits as well. After the prayers, she recommends eating salad, vegetables, rotis, dal and or chicken.
It is important to eat a good amount of vegetables to provide enough nutrition to the body. If you have a sweet craving, Naini advises to satisfy it by including pineapple in your meal as it will help digest the food better.
 In Neha's opinion, eating fibre and protein-rich foods is imperative during Ramadan. She also advises people to avoid eating fried, oily and heavy food items as they cannot be easily digested and can make your stomach bloated later. Here's a diet plan she recommends.
Start your day with:
oats porridge/ oats upma
fruits, dates and nuts
egg scrambled/ egg omelette + multigrain bread
milkshake
Break your fast with dates and opt for the following:
salad/ soup
chicken/ fish – steamed, boiled, grilled, roasted or paneer
green veggies or mix  vegetables
1 cup brown rice
2 rotis – jowar/ ragi
curd
Remember to drink plenty of water before you sleep to rehydrate yourself and rest well to rejuvenate your body for the next day's fast.
Tired of reading? Check out our YouTube Channel