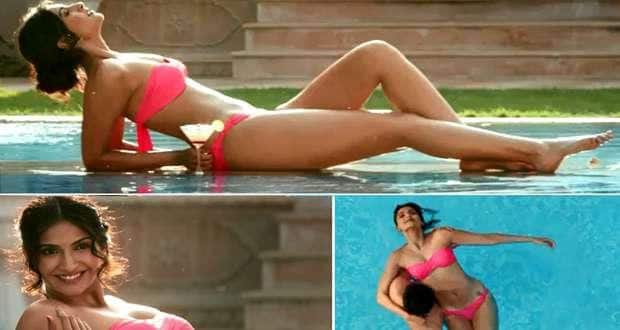 From being fat to flaunting a bikini, Sonam Kapoor has come a long way! The trailer of her film Bewakoofiyaan garnered a lot of hype for her pink bikini scene. The actress worked out hard to get a hot bikini bod. Her diet and fitness trainer Radhika Karle helped her achieve this look. We tell you how the pretty actress got so fit for Bewakoofiyaan. Excerpts from an interview with Radhika.
Since when are you training Sonam Kapoor?
It's been almost two and a half years since I started training Sonam.
What diet and exercise plan does Sonam follow?
I devise it according to the role Sonam is playing, keeping in mind the shoot locations as well. Last year it was in the sweltering heat of Benares to the extremely cold Bikaner. In Bewakoofiyaan she plays a high-profile banker with a strong personality. For this, I made her do a lot of heavy weight training, she followed a high-protein diet.
Sonam will be seen wearing a bikini for the first time onscreen. How long did it take to get her body bikini-ready?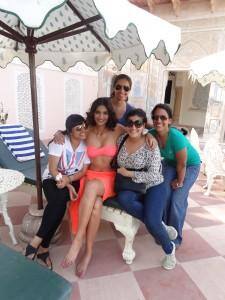 She trained for a good six months which included a wide variety of workouts including Pilates for making her core stronger, heavy weight training to tone her muscles, cardio interval training which included a couple of sets of weight training followed by 2-3 minutes of intense cardio sessions.
In terms of her diet, she had adequate amounts of protein on the days she did weight training and on other days she ate a balanced meal including lots of salads, grilled fish, chicken, coconut water, chhas and plenty of water. 1-2 days of the month she would follow a detox diet to cleanse her system in case she ate something unhealthy. Sonam's a foodie and absolutely loves Indian street food like pani puri, pav bhaji, fried food, etc which she had to give up eating.
Sonam stands tall at 5'10 and did not want to look stick-like in the bikini scene. She wanted to look curvy, girly, fit and toned which comes across pretty well when you see her body in that scene.
Could you us an overview of a day in Sonam's life as far as her workout and diet is concerned?
Sure, this is what her day looks like:
Morning: Sonam starts her day with a fruit and half litre of water or on a few days, she has a cleansing apple and vegetable juice.
Workout: After this, she starts her workout. Sonam does weight training for three days of the week which includes supersets (one upper body exercise followed by one lower body exercise and so on). Other three days she does Pilates for building core strength.
Post workout: She has her protein shake after the workout session and an hour later she eats eggs.
Fruit: Two hours later she eats a fruit again.
Lunch: After a gap of two hours she relishes her lunch.
Evening snack: She eats quinoa/uttapam/idli/ dosa/ sandwich.
Dinner: Sonam has an early dinner at about 7.30 pm.
Workout: After some gap, she works out again.
Post workout: Whey protein.
Night: She has a light soup.
Shoots can be tiring due to their long hours but Sonam makes it a point to keep her diet in-check and the workouts really help her keep her energy levels high.
Radhika Karle holds a Master's degree in Nutrition and Dietetics from Texas Woman's University, Houston. She has also done a fellowship in Adolescent and Sports Medicine. She returned to India 7 years ago and started Radhika's Balanced Body, a personal training studio in Mumbai. Radhika has over 10 years of work experience in the field of fitness as a nutritionist, personal trainer, yoga and Pilates instructor. She currently trains Sonam Kapoor for her diet and fitness.  Her personal nutrition mantra is, 'Everything in moderation' and her fitness mantra is, 'Do what you love and just stay active'.
You may also like to read:
For more celebrity fitness secrets, check out our celebrity fitness section. Follow us on Facebook and Twitter for all the latest updates! For daily free health tips, sign up for our newsletter. And to join discussions on health topics of your choice, visit our forum.