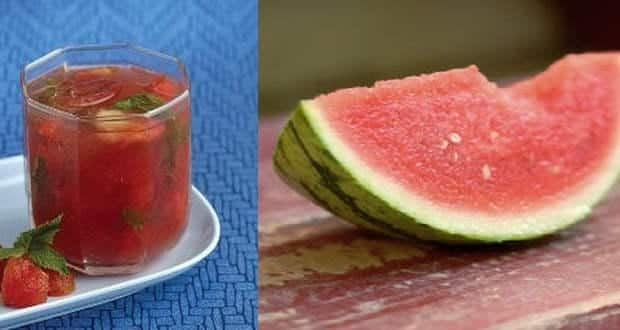 If you want to create a healthy, sugar free drink there are few options better than watermelon.  Try out this delectable thirst-quencher when you entertain guests this Diwali. And various studies have shown that watermelon besides packing nutrients like Vitamin A and C can also lower bad cholesterol levels in the body.
Ingredients
4 tbsp mint leaves (phudina)
4 tbsp lemon juice
4 tbsp watermelon (tarbuj) cubes
4 tsp sugar syrup
2 pinches salt
3 cups fresh watermelon (tarbuj) juice
1 cup crushed ice
Method
Combine 1 tbsp of mint leaves, 1 tbsp lemon, 1 tbsp watermelon cubes, 1 tsp sugar syrup and ½ pinch salt in a rock glass.
Muddle (lightly crush) all the ingredients together using a muddler.
Repeat steps 1 and 2 for 3 more glasses.
In each glass, place ¼ cup of crushed ice and pour equal quantity of the watermelon juice over it. Serve immediately.
Here is the original recipe source: Watermelon Mojito by Tarla Dalal