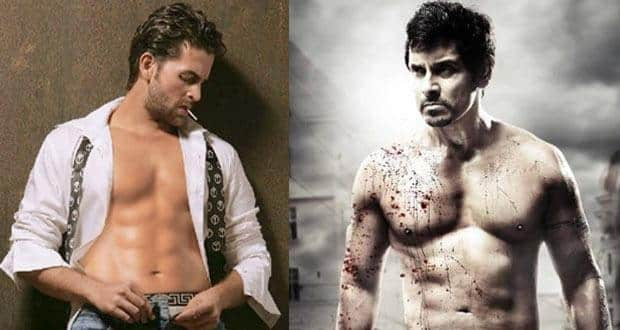 Telugu and Tamil actor Vikram, well known for his ability to morph into any type of body for his roles, has styled himself into the tough and muscular look for the upcoming release of David. Nearly 50 years old, the veteran actor has drool-worthy six pack abs and a body to boot. His trainer Alkhas Joseph says the actor's enthusiasm and fitness level surprised him when he first started Vikram's training.
Another actor working alongside the veteran is Bollywood's  Neil Nitin Mukesh, showing off a ripped body, perfect for his role as a ruthless don. Also known as the actor with the 'chor' body, Neil Nitin Mukesh has always maintained his fitness levels throughout his time in the industry. Although he has never experimented much with his looks, the trailer of David has women drooling over his body.  When asked about his fitness, he says that he has a tendency to put on weight, and has always kept a check on his fitness levels right from the start.
With Vikram, well into his 40's and Neil being much younger, it made us wonder what the two actors were doing to get such perfect bodies, here are some of their secrets:
Focus: Both the actors say that fitness is an essential part of their lives. They are of the opinion that a good body not only helps a person remain healthy but also boosts a person's confidence. Good focus is important when it comes to getting that perfect look. A strict fitness regime and a good nutritious diet are the key.
Hire a trainer: Both Vikram and Neil say that an exercise regime should be tailor-made to fit a person's body type. They are firm believers in the fact that a trainer is essential to a successful fitness regime.  Both their trainers chalk out plans that suit their body type and how much they can work out.
Stay away from artificial stuff: Vikram says that taking steroids only helps in getting immediate results, the long term side-effects can be very damaging. According to Neil, he stays away from steroids too and sticks to natural supplements to build muscle. Both actors agree that there is no short cut to getting a fit body, only hard work pays.
Exercise: Being extremely regular with their workout regime is essential to both the actors.  Vikram says that when he prepared for 'David' he was required to have a ripped body, so he worked out accordingly. According to Neil he never works out towards six-pack abs or ripping muscles, even for this role he just aimed at being fit. Both Vikram and Neil concentrate on working out one body part every day and alternate between cardio exercises and weight training.
Diet: According to Vikram he prefers to eat healthy on most days but gives in to cravings every now and then. In comparison, Neil sticks to a strict diet.  So much so that he even takes a cook along on outdoor shoots to make sure that he eats the right kinds of foods at all times. They both agree that when one is aiming at getting a perfect body it is essential to increase the protein content and cut down on the carbs.
Relax: Both the actors warn that there is such a thing as too much exercise. They both emphasise that it is important to relax and de-stress. According to Vikram, stress is the worst thing that you can do for your body and that while working out it is prudent to stop when your body needs rest. On the other hand, Neil makes sure he takes the time to unwind at least once a week and recharge his body.