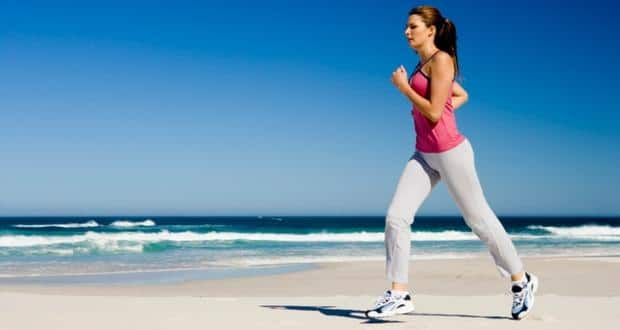 The running vs walking debate is age-old, but a recent study says brisk walking is healthier than running. Does that matter to runners? Shikha Kumar finds out. This is not exactly breaking news, but it will give walkers something to crow about as they go about their daily exercise. And instead of looking enviously at the 'cooler' joggers who sail past them kitted with headphones and MP3 players et al, the walkers will be smug in the knowledge that brisk walking is doing their hearts more good than running.
A study published in April in the American Heart Association's (AHA) journal Arterisclerosis, Thrombosis and Vascular Biology says that brisk walking reduces the risk of heart disease by a greater amount (9.3%) than running (4.5%), when the same amount of energy was expended.
Dr Hemant Thacker, a consultant physician and cardiometabolic specialist, hails the results of the study. 'Rapid walking makes the heart muscles pump at a sustained rate as opposed to episodic rating which happens in the case of running, as the runner frequently changes his speed.' He also brings attention to the non-cardiac benefits of walking like fewer chances of injuries and muscle wear and tear. 'As age advances, running abilities tend to fade but walking remains evergreen,' he says. (Read: 
Run, baby, run
But this is unlikely to deter hardcore runners who run, not so much for health reasons, as for the sheer fun of it. Nikhil Shah, a 42-year-old software engineer in Pune who is also a hardcore runner, says trying to compare running to walking is like comparing apples to oranges. 'I love running because you can achieve the same output in a lesser time,' says Shah. Sharan Manjunath, an executive with Runners for Life, a Bangalore-based running organisation, also runs for the love of it. He first took to running five years ago, when he weighed 84 kg. While he admits that the first few months were very challenging, he didn't give up and today, runs 30-50 km a week. 'While I initially did it for the health benefits, it grew to become a passion. (Find out if you r are fit enough to run.) 
Today, running has become a form of personal expression for me,' says the 25-year-old, who has participated in several half marathons. Then there's Delhi-based Tanvir Kazmi, 38, who has run 11 full marathons in eight years. He has his own running blog, runinfinity.com, and in 2010 participated in the Comrades Marathon in Durban, which at 89 km, is the largest and oldest marathon in the world. He has long-term goals in place — he wants to run the 100th year at the Comrades, when he'll be 50. 'Running exemplifies life' for Kazmi and he won't have it any other way. (Read: Eight reasons to start running)
It's all about the target
Shah runs at least four times a week and travels for marathons within the country. He has also travelled to Dubai and USA for marathons. Researchers in the study analysed 33,060 runners and 15,045 walkers, aged 18 to 80, for a period of six years. In fact, not just heart disease, the study revealed that the risk of first-time high blood pressure and cholesterol was reduced by around 7% for walkers in comparison to 4% for runners. The runners are aware of associated risks like stress to the heart and damage to knees and ankles because of poor quality footwear and running on hard surfaces. But Shah dismisses this, saying, 'People who do serious running, like full marathons under three hours, are the ones who can be said to be at risk.'
As far as injuries due to running are concerned, Manjunath backs Shah and states that humans are meant to run and that running affects the knees is one of the biggest myths abound. 'If you run in a scientific way, wearing the right kind of shoes and on proper ground, you will never hurt yourself. A walk would do just as much good.'
Most runners agree that the choice of exercise is a question of one's targets and what they want to achieve out of it. 'People shouldn't be hung up on what they do but that they do it regularly,' says Shah.
For more on your health visit: dnaindia.com