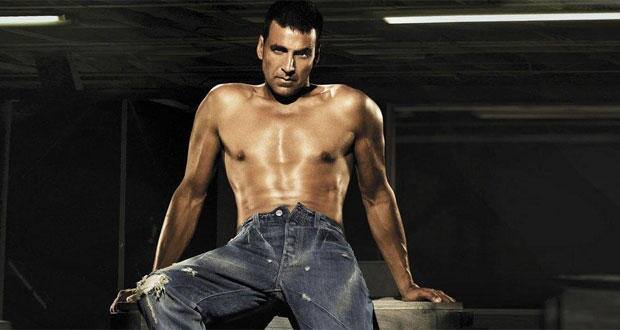 Akshay Kumar's Rowdy Rathore is running to packed theatres and the actor seems to get fitter with age. He has the naturally fit, lean and mean look. If sources are to be believed he has no trainer, doesn't lift weights and eats whatever his heart desires! That doesn't mean he doesn't have a fitness regime, it just means he looks to stay healthy naturally. He believes being happy and a fulfilling life is intricately tied to fitness. According to him fitness needs to be utilitarian not about having a bulky body with biceps, triceps and 6 packs. It's more important to eat right and exercise each and every muscle .
Akshay Kumar owes his unique outlook towards fitness to martial arts, particularly Karate (he has a 6th degree black belt in Kuyukai Gojuryu Karate). He has also delved in other martial arts like Muay Thai, a Thai kickboxing technique. In fact, he  loves martial arts so much he wants it included in the school curricula and considers it along with yoga to be the most complete forms of exercise.
So what does he do to keep fit?                   
To understand Akshay Kumar's fitness regimen the most important thing we need to understand is the fact that it's not designed to make you look good, it's about functionality. The body is like a well-oiled machine and it needs to be maintained properly. Discipline is of utmost importance. The actor claims that he wakes up at 4:30 am and goes to bed by 9 pm without fail. He avoids night shifts as far as possible. He does go to the gyms in the morning but says he has no set routine. Instead he just 'fools' around for an hour and a half doing whatever his heart desires. In his own words, "he does anything and everything that inspires him and pushes his limits".
Like we mentioned before he is a big fan of kickboxing, loves to play basketball, swimming and practises yoga. 
Extreme Akshay
The Khatron Ka Khiladi host is also a big fan of extreme sports and has imbibed its hues in his day to day life. He actually climbs trees and when he can't find them makes do with a custom-built 30 feet wall. He is a big fan of extreme sports like rock-climbing and takes his son whenever he gets the chance.
Core conditioning, not 6-8 packs.
He doesn't care for 6-8 packs brigade and says that it's more important to develop the core. Core conditioning refers to a group of exercises that focus on the core muscles. Core muscles are muscles of your mid-section, abdomen section, pelvic muscles and the muscles of your lower back. These core muscles literally hold your body up and provide stability to your spine. Most lower- back injuries occur due to weak core muscles. A strong core improves posture, prevents lower back pain, increases mobility and improves your overall coordination and reflexes. Watch fitness expert Raghav Pande's core conditioning exercise video here.
 He is also a big fan of functional training which is a way to improve the body for daily activities. It leads to better muscular balance and joint stability. It's a more natural way of exercising than regular weights which focus on individual body parts and is deemed 'unnatural'.
  Food to be lean and mean
No exercise regime is complete without a proper diet and Akshay has one which is easy to follow. He sticks to normal home-cooked Indian food. He usually starts his day with a heavy breakfast which comprises of eggs, parathas and a juice or milkshake. Lunch comprises of a dabba he brings from home usually regular daal-roti-chawal sabzi. He's a big fan of Gujrati cuisine and raids Paresh Rawal's tiffin whenever they are shooting together. Dinner's usually a light meal; soup, salad and chicken. What's most important is the fact that he has a very light dinner which doesn't have any carbs. Whenever he feels hungry in-between meals he snacks on dry fruits and actually stays away from tea and coffee. The actor's diet is very interesting because dry fruits are not only the perfect fillers but help curb diseases like diabetes and heart disease and even aids digestion. Click here to read the health benefits of almonds, pistachios and nuts.
The actor claims he does have to occasionally curb his sweet tooth and only has sweets on Sundays. In fact he lets himself go on Sundays and eats anything that comes his way. Chocolate cakes, gulab jamun and other Indian sweetmeats he has in moderation.
What we can really learn from his exercise and diet regime is that it's not about bulking up but eating right and living a healthy life. And looking at him we can't disagree.