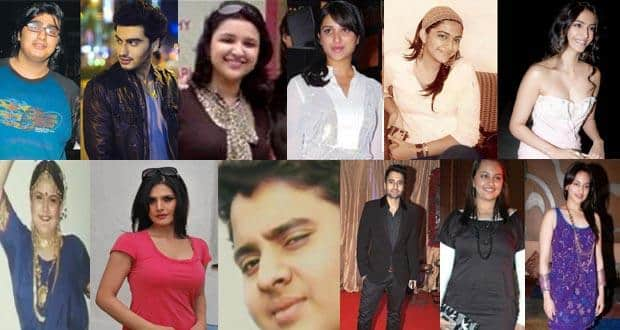 Are you tired of your bulging belly and those googly-woogly cheeks? Relax! You are not alone in your battle with bulge. Our dear Bollywood stars too have faced their share of "weighty" issues in the past. So, worry not! If they can do it, so can you. But for now just sit back and enjoy the ride as we look at the celebs who went from fat to fit!
Parineeti Chopra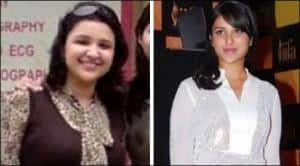 She is the current heartthrob of almost every man. (We are still figuring out the reasons!) Parineeti herself admitted in the media that before joining films, she wasn't just chubby but very fat. Hmm…we wonder if didi Priyanka gave any of her secret fitness tips to Parineeti?
Sonam Kapoor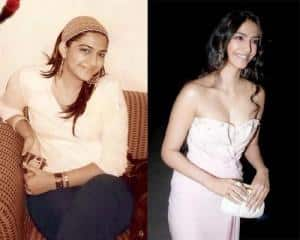 On number 2, we have our darling 'Miss Style Icon' of Bollywood Sonam Kapoor. Sonam who is known for her clothes rather than her acting skills weighed 86 kilos before she signed her first film Saawariya. She reduced 30 kilos to get that sexy look in her film. Read more about how Sonam Kapoor managed to lose weight. 
Adnan Sami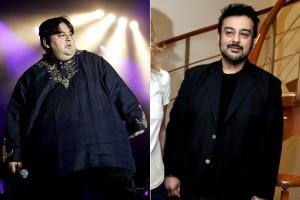 Singer, who used to travel with a custom-made wheelchair just because of his weight, literally shocked the world with his drastic weight loss in 2007. Adnan, who weighed 206 kg, lost over 130 kilos in just one year.
Sonakshi Sinha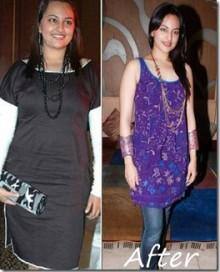 Well, on number 4, we have the beautiful Joker, oops! Daughter of Shaturghan Sinha. This Mast Mast Nain of Sonakshi once had oodles of fat beneath them. But to become Salman's "Rajjo" Sonakshi reduced 30 kilos to get her svelte figure for Dabangg. Read more about Sonakshi Sinha's weight loss story.
Jackky Bhagnani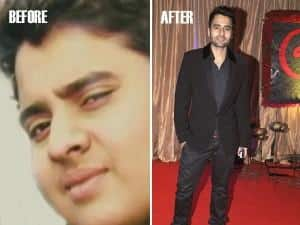 Recently been seen doing Boom-Boom on screen, Jackky Bhagnani looked exactly the opposite in his childhood days. Before his debut film Kal Kisne Dekha, he weighed 130 kg. Jackky who now confidently poses for those shirtless pictures, had to go under a gruelling exercise regime and strict diet plan for over two years to lose 60 kg. 
Esha Deol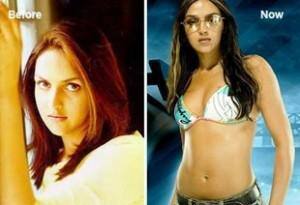 Remember, the actress who flaunted her athletic body with those six pack abs in a bikini? Yes, we are talking about the daugher of Dharamendra and Hema Malini, Esha. She was shunned by the industry for her baby fat in her debut film Koi mere dil se Pooche.
Also read: 7 best ways to lose weight in 1 week
Kareena Kapoor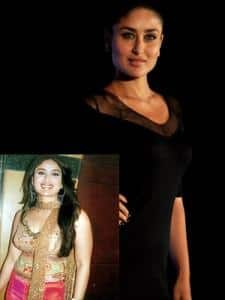 The poster face for size-zero, Kareena, was lashed out by critics for her figure when she did Yeh mera dil pyaar ka deewana. But Kareena did a strong comeback in Tashan. She put the screen on fire by flaunting her super sexy and ultra slim body in her debut bikini scene. Her incredible shrinking figure became a national obsession almost overnight.
Adhyayan Suman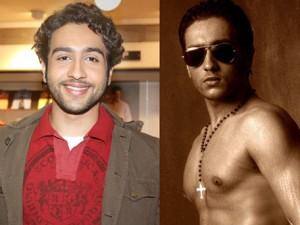 Ex-boyfriend of Kangna Ranaut who did his debut in Raaz- The Mystery Continues, was quite "big" as a teenager. Adhyan lost 45 kg in five months to get his perfect physique. With an inspiring daddy, Shekhar Suman for motivation, we assume, this wouldn't have been such a problem for Adhyayan.
Arjun Kapoor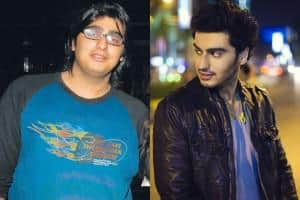 Our Bollywood ladies are not the only ones struggling with weight problems. Son of producer Boney Kapoor, Arjun made his debut in the industry with Ishaqzaade. Arjun who flaunted his six pack abs in Chokra Jawan song, weighed 130 kg before being signed by Aditya Chopra in his film. Read more about how Arjun Kapoor got seriously ripped for Gunday. 
Also read: Arjun Kapoor's weight loss story
Katrina Kaif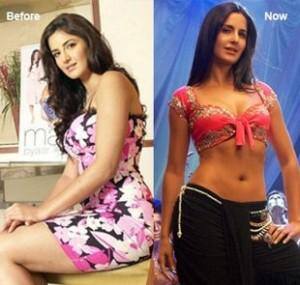 Our super gorgeous Sheela too had her days of baby fat. Yes, Katrina was never fat but wasn't fit either. Well watch her first film Boom (at your own risk!) you will see the difference between then and now. That sharp and symmetrical jaw line was definitely missing in her initial days in Bollywood. 
Mimoh Chakraborty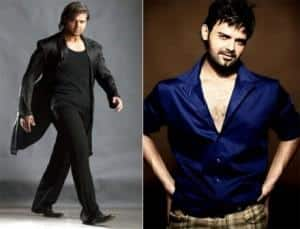 Wondering who he is? Well, he is the son of the original 'Disco-dancer' of B-town Mithun da. After making an unsuccessful debut in Jimmy, Mimoh lost oodles of weight. After that, he looked so different, that it was difficult to recognise him in his come-back film Haunted.
Alia Bhatt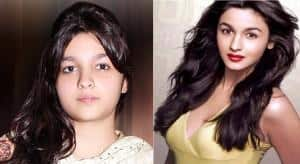 The young star of Bollywood who made her debut as a lead actress with Student of the Year was not always as gorgeous as she looks now. This debutante was made to follow a strict diet under daddy Mahesh Bhatt's supervision for three months. Result? Alia was 16 kg lighter on screen after shedding all that puppy fat.
Zarine Khan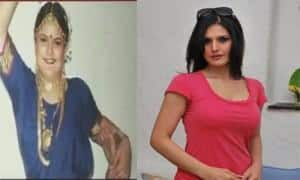 She fought intense media scrutiny following her debut film- Veer. She was almost written off by critics for her larger-than-frame screen presence. However, the actress worked extremely hard on her fitness and has now finally shed off all those extra kilos. She took on from 100 kg and is now 55 kg. Way to go Girl!
Content sourced from BollywoodShaadis.com
For more articles on Fitness check out our Fitness Section and for videos check out our YouTube Channel.  Don't miss out on the latest updates. Follow us on Facebook, Twitter and Google Plus.