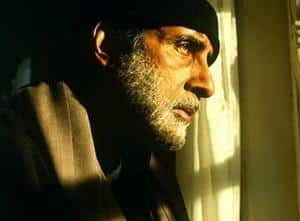 Whenever we hear about an old age relative being affected by any form of dementia, we feel sorry for both the patient and the caregiver. Its onset can come as a rude shock, as the person affected may have been a normal, fully functioning and highly productive person before being affected.
Movies can help us see closely how human nature reacts when such a tragedy happens, and thus sensitize us more to the disease. Today, on World Alzheimer's Day, we give you a list of movies that explore the impact the disease has on different kinds of people, in different cultures and environment.(Read more: Symptoms and diagnosis of Alzheimer's)
Black
This 2005 film by Sanjay Leela Bhansali, is a tragic story about a blind and deaf student and her teacher. Debraj Sahai, played by Amitabh Bachchan raises the young Michelle McNally, played by Ayesha Kapur, and brings her out from her protected world and teaches her the ways of life.Towards the end of the movie- we are shown that the girl who couldn't speak, listen or see has finally graduated. But, tragically her teacher, is old and sick with Alzheimer's and can't even talk properly.
The Notebook
Based on Nicholas Spark's novel of the same name, the story follows an old formula for romantic cinema – that of a rich girl falling in love with the poor boy. The couple, Noah and Allie, played by Ryan Gosling and Rachel McAdams fall in love at first sight but are separated due to the class differences between them. Years later, they are reunited when Allie reads a news piece about Noah. Still, due to circumstances they are separated.
The reason the movie is called The Notebook, is because Allie has written down her memories in the notebook and when she has Alzheimer's as an old woman – she hears the whole story from her husband, and remembers Noah.
Away From Her
The movie based on Alice Munro's short story, 'The Bear Came Over the Mountain' is about a happily married retired couple whose relationship is tested when the wife is diagnosed with Alzheimer's.
Grant and his wife Fiona, played by Gordon Pinsent and Julie Christie mutually agree that it is best if Fiona checks into a nursing home where she can be taken care of by experts. For the first one month, Grant is not allowed to meet his wife because of the hospital's policy. However, when he returns he sees that things have changed. Fiona has forgotten her husband, and fallen in love with another man in the hospital called Aubrey, played by Michael Murphy.
Unhappy with this development, Grant becomes a voyeur observing his wife from a distance. After some time though, Aubrey's wife takes him from the hospital due to financial reasons and Fiona starts missing him and is depressed. Touched by his wife's sadness, Grant then visits Aubrey's wife in an effort to get Aubrey back into the hospital and see his wife happy and eventually, he succeeds.
U, Me Aur Hum
This movie enacted by real life couple, Ajay Devgn and Kajol marked Devgn's debut as a director. After a lot of efforts, Ajay Malhotra, played by Devganis finally able to marry PiyaSaxena, played by Kajol. However, their happiness is short lived as Piya starts to forget where her house is while shopping and starts screaming for help. Ajay finds her and takes her to a hospital where they find that she has Alzheimer's and that she is pregnant. Pregnancy forces Ajay to keep a close eye on his wife so that she doesn't hurt the baby. Later, the baby is born and Piya's condition worsens.(Read: 'Alzheimer's is no more an old age condition')
Ajay, then sends her to a nursing home but soon realises his mistake and brings her back. After that, he learns to love her and take care of her and together they celebrate their 25th anniversary on a cruise.
Read more about causes, symptoms, diagnosis and treatment of dementia.
Iris
Iris is a true story about novelist Iris Murdoch's life. Murdoch known for novels like Under the Net and The Sea was diagnosed with Alzheimer's in 1995, when she was 76 years old.
The movie follows the story of Iris and her husband, John Bayley right from their youthful years at Oxford to their struggle with Alzheimer's in old age. The younger version of the two characters were played by, Kate Winslet and Hugh Bonnville whereas Judy Dench and Jim Broadbent played the older versions of Iris and John.
A Song for Martin
Another love story, A Song for Martin is a story of two already married musicians, Martin and Barbara, played by real life couple Sven Wolter and Viveka Seldahl, falling in love and divorcing their respective partners to start a life together. Martin, who is a composer and Barbara, who is a violinist get married and head for a passionate honeymoon to Morocco.
However, the life of romance that they choose doesn't go as well when five years later, Martin is diagnosed with Alzheimer's. Despite his condition, Barbara is shown trying hard to rekindle his memories and sometimes even getting angry at him. It's an honest film about the illness and unlike most films this one doesn't fall into the trap of showing a happy ending or a flashback of happier times for the viewers to feel hopeful. (Also read: Mental illness portrayed onscreen)
While the condition is debilitating and may catch you unaware, Alzheimer's disease is more common than you think. But catching it early can slow the progress of the disease. If your loved one or someone you know is diagnosed with Alzheimer's, you can read about a few tips for caregivers. 
For more articles on diseases & conditions , visit our diseases & conditions section. Follow us on Facebook and Twitter for all the latest updates! For daily free health tips, sign up for our newsletter. And to join discussions on health topics of your choice, visit our forum.