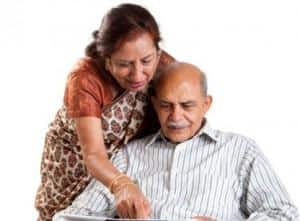 September 21 is World Alzheimer's day.
Arjun Kohli had just turned 67, he was enjoying the company of his grandchildren, and his large joint family thronged around him for his emotional support and guidance. But when he started to forget things they stacked it up to old age, and let him be. It was when the veteran business man forgot his way home while on his walk that his eldest son decided to get him checked by their family doctor. He was diagnosed with Alzheimer's, and his family was told that they would need to take care of him as he becomes increasingly dependent on his caregivers.
Alzhiemer's disease is a condition that affects the brain of a person, and dementia is one of the most glaring and sometimes shocking symptoms of the condition. While both the conditions go hand in hand, dementia takes precedence, as it is the most prominently visible symptom of Alzheimer's.
According to Ms Swapna Kishore, a dementia caregiver for the past ten years and now a caregiver guide, Indian families though very rooted in structure, do not realise the need for a dedicated caregiver for dementia patients. The condition is blamed on old age and is not recognised as being different from the daily familial care one gives to the ageing.
So what can you do if a loved one is diagnosed with Alzheimer's?   Here are some handy tips you can use:
Accept that you are the caregiver:
As a caregiver it is important for you to realise that you are the patient's sole source of help, and your job will become increasingly demanding – emotionally, financially and on your time. So, be prepared. Be ready to be emotionally sapped, and to deal with disappointments or emotional hurt from time to time. Most importantly realise that the patient has little or no control over his/her action and words. They are still the same person you know and love, but their brain is not adept to maintain their health. Take time off every now and then, and find someone to talk to if you can.
Recognise your stress signals:
It is normal to be stressed while performing your caregiving duties, but know that there are things you can do to reduce it. According to Ms Swapna Kishore, the first step is to recognise what triggers stress in you, and to work around the obstacle. For example, if it is the sheer amount of work that is causing it, consider hiring some type of help to lessen your load. If you are stressed because of emotional hurt or the patient's challenging behaviour, seek help and learn how to work around it. Also make sure that the behaviour is not due to any other underlying medical condition. If you are frustrated because you are not able to see any change in the patient's condition when you were expecting some, try to accept the nature of dementia and try to work with what you have.
Avoid isolation
Since caregiving can be a full time job, make sure you are not isolated. If you cannot step out of the house, join online forums. Join communities that can help you relax and talk about issues that are bothering you. More importantly they will help give you a feeling of not being alone.
Take a break
It is essential that you get away from the situation from time to time. Wanting to go out and relax is not a bad thing, don't feel guilty. Wanting some time for yourself in no way means that you love your ailing family member any less, it just means that you need to be healthy to take care of him/her. If you do not have the opportunity to go out, seek help from a day-care centre, family members or friends.
Seek help when you need to
Handling a patient on your own can take a toll on your health, so seek help. It may be your family member, friend or even colleague. They may not be able to help with caregiving jobs, but they can definitely get involved in other activities like buying groceries or medicines, helping you clean up, or even do everyday mundane things like going to the bank or paying bills. These little things do add up and can make a big difference on your workload. If you do ask a person for help, remember to tell them about dementia and that the condition can lead to changes in behaviour. Keeping them informed is the best way to help them prepare and understand the areas they can help in.
Read more about causes, symptoms, diagnosis and treatment of dementia.
Take care of your own health
It is important to know that you are the key to your patient's health. So stay healthy, eat nutritious food, get some exercise, and get regular health checkups. A good way to beat fatigue and stress is to try some yoga or meditation; it will not only keep you healthy but will help your mind stay relaxed.  Remember that a stressed caregiver isn't a good caregiver. According to Swapna Kishore, 'Care givers who are unhealthy and tired tend to take shortcuts. Although it's not always a bad thing, it can lead to a lack of overall energy levels, lack in the sense of well-being and increase the amount of stress overtime.
With inputs from Ms Swapna Kishore, author and guide for dementia caregivers. Ms Swapna Kishore has been a dementia caregiver for over a decade and now hosts a number of online support sites. Being an authority in the subject, Ms Swapna Kishore graciously agreed to let us take inputs from her sites. For more information on dementia and care giving, visit dementia-care-notes.in. She also has a blog –Swapnawrites.com, where she writes about supporting other caregivers and another blog on her dementia related work. 
While the condition is debilitating and may catch you unaware, Alzheimer's disease is more common than you think. But catching it early can slow the progress of the disease. 
For more articles on diseases & conditions , visit our diseases & conditions section. Follow us on Facebook and Twitter for all the latest updates! For daily free health tips, sign up for our newsletter. And to join discussions on health topics of your choice, visit our forum.