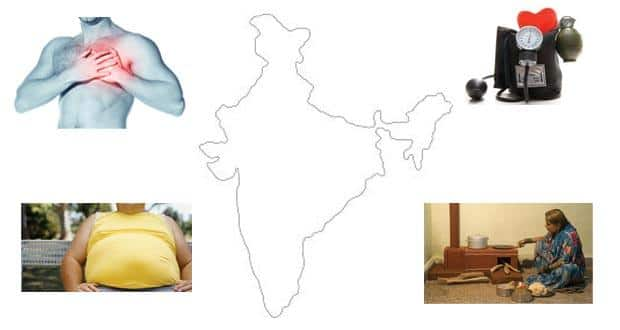 The WHO Global Burden of Disease Study 2010 – the largest ever study of its kind that looks to investigate the global distribution of major diseases, injuries and health risk factors – found some startling facts about Indians. For starters, the life expectancy has shot up in the last 40 with an average Indian man likely to live for 63 years while a woman is likely to live even longer up to 67.5 years. 
On the downside though, the last few years are very painful considering the report says that Indian men only live healthily for 54.6 years while women tend to remain healthy till they are 57.1 years – each spending almost a decade riddled with various ailments. It's still much shorter than the average Chinese's or American's lifespan. The average Chinese male lives up to 10 years longer than the Indian male and a Chinese woman lives almost 11.5 years longer than her Indian counterpart. The average American lives nearly 13 years longer than his Indian counterpart.
Read more about causes, symptoms, diagnosis and treatment of hypertension.
 Some other findings from the study:
 Indoor air pollution causing more diseases than high blood pressure!
 The common practice of burning wood, charcoal and animal dung as fuel in chulhas exposes many Indians to an unprecedented amount of pollutants and is the single biggest health threat to the users. These pollutants can cause ear, nose and throat irritation, hay fever, allergies, bronchitis, asthma, cancer and reduced lung functions. WHO estimates that the pollution levels inside rural kitchens are 30 times higher than recommended levels and six higher than outdoor air pollution in a traffic-congested city like Delhi! In fact, worldwide while high blood pressure was the single biggest cause for disease, among Indians it was indoor air pollution! 
Read more about causes, symptoms, diagnosis and treatment of heart disease.
Smoking kills
Another major threat to Indians is tobacco smoking, which causes nearly 6.3 million deaths across the globe. Incidentally, India is one of the world's major tobacco users and a study estimated that smoking – cigarettes and bidis – had killed over 100 million Indians in the last 100 years!
Some other health threats to Indians include 
Diet low in fruits

Lack of breastfeeding 

Sedentary lifestyle/lack of physical activity 
The study also found that though more and more people were living longer the world over, they were spending the last few years living with a disability (YLD).  The top four reasons for disabled living worldwide was found to be
Lower back pain

Pain in the neck

Iron deficiency anaemia 
Read more about causes, symptoms, diagnosis and treatment of stroke.
Top five global killers
1. Ishemic heart disease
2. Stroke
3. Chronic obstructive pulmonary disease (COPD)
4. Lower respiratory functions
5. Lung Cancer
Read more about causes, symptoms, diagnosis and treatment of diabetes.
For more articles on diseases & conditions , visit our diseases & conditions section. Follow us on Facebook and Twitter for all the latest updates! For daily free health tips, sign up for our newsletter. And to join discussions on health topics of your choice, visit our forum.