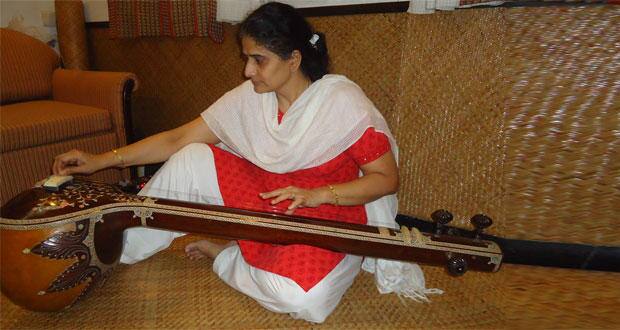 They say music is universal, that it knows no language or boundaries. But music as a means of alternative therapy to cure various ailments is perhaps a forgotten concept in India.
Forgotten because the fact that music – specifically our classical Ragas – has certain healing properties was always known to our ancestors since the Vedic times. Our religious scriptures mention that Ragas are powerful enough to guide a person to clear and positive thinking, relieve a confused mind (which, by the way, the writer of this article has herself experienced) and reach a spiritual calmness. However, since minimal scientific data is available on the effects of music on an ailment, music therapy has remained a relatively unexplored field in our country. A lot of experiments and surveys are conducted on this subject in the West, where it has become a highly evolved science.
The basic principle of music therapy is that the articulation, pitch, timber and the arrangement of Sur (musical notes) in a specific order can make an impact on a person's mind and body. Pandit Shashank Katti, a pioneer in the field of music therapy in Mumbai, has been researching and experimenting in this field for 14 years now. 'Music is enjoyed by all – nothing extraordinary there. But what you enjoy need not be therapeutic for you and vice versa,' says Katti, a musician (he plays Sitar) and an electric engineer by profession.
 So do classical Ragas help in any and every ailment?
Katti says that it would be wrong to say that just listening to a particular Raga can cure a particular illness. 'It is important to first diagnose the disorder in a patient and understand his psychology. Secondly, it is equally important for a therapist to know what Sur are to be used where, when and in what manner to make an impact on a patient's health,' he says.
Music therapy is referred to as 'Gandharvaveda' in Ayurveda. The Ragas are classified into morning ragas, afternoon ragas, evening ragas or late night ragas. The reason being that our mind and body are in different moods at different times.
Meenal Deshpande, a noted classical singer and music teacher at the Mumbai University, agrees. 'If a music piece is played or sung in the right manner, it certainly calms our nerves and later can even lead the mind to a meditative state,' she says.
'During the 6 am to 9 am period, one is still in a calmer state of mind. Accordingly, the Ragas created for this time span are also very soft, melodious and of calmer Surs. Examples of these Ragas are Rishabh Dhaivat, Bhairav, Todi, Lalit, etc,' she says. 'Then around 9 am – 12 noon, one needs some awakening and energy to get going about the daily chores. Hence, a little livelier Surs are preferred. Eg: Deshkar, Jaunpuri, Khat, Bilawal etc. Around 1 pm – 4 pm, when the sun is directly overhead, one needs something soothing. Eg: Sarang, Bhimpalas. From 5 – 8 in the evening, fast paced Ragas that enliven our mood are preferred. Eg: Marva, Puriya Dhanashree, Purvi etc. After 8 pm one can listen to Raga Durga, Yaman, Bageshree etc. To help us calm down again and induce sleep, late night Ragas such as Malkauns, Darbari Kanada and Jaijaivanti are popular…'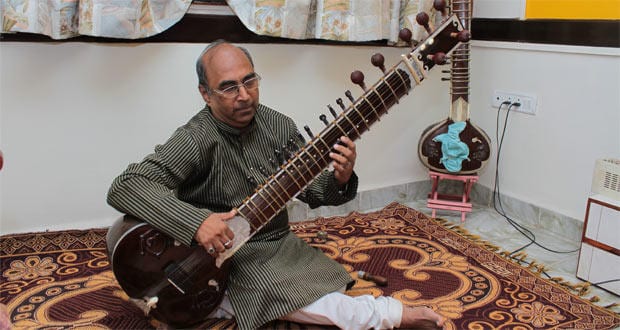 Mr. Katti explains that the regulatory elements of Ayurveda – Vata, Pittha, Kapha – work on our bodies in different manner at different times. Hence, the Ragas were created to suit and alleviate our mood for that particular time of the day. 'The music which elevates your current mood is appreciated by you at that particular time,' he says.
However, these are all generalizations. Mr. Katti emphasizes the fact that, 'A therapist should have vast knowledge as to which sounds or notes activate the systems of our body. That, of course, differs from patient to patient and from one ailment to another. I call my experiments modified music; whether it falls in a particular category of Raga or not is not important.'
Music therapy apparently gives more tangible results on psychosomatic disorders like anxiety, blood pressure, migraine, heart troubles, gastro-intestinal problems and sleep related disorders. Just like yoga, meditation and exercising, music contributes towards good health.
(Watch Ms. Meenal Deshpande singing Morning Raga Ahir Bhairav below. Video by Jigna Khajuria)
 'It is a known fact that good mental health automatically leads to good physical health. Even a healthy individual can benefit from music as it can relax frayed nerves and bring positivity in our thinking,' says Dr. Shubhangi Parkar, professor and HOD – Psychiatry Department, KEM Hospital.
Does that mean that musicians or singers, who live and breathe music, have no physical or mental ailments? 'Certainly not,' states Dr. Patkar, 'They, too, can suffer from any ailment. But the complications are notably less as their basic health is usually sounder.'
Whether you believe in music therapy or not, you can always enjoy the various classical Ragas and see for yourself if it affects you in anyway.
Read more about causes, symptoms, diagnosis and treatment of stress.
For more articles on diseases & conditions , visit our diseases & conditions section. Follow us on Facebook and Twitter for all the latest updates! For daily free health tips, sign up for our newsletter. And to join discussions on health topics of your choice, visit our forum.