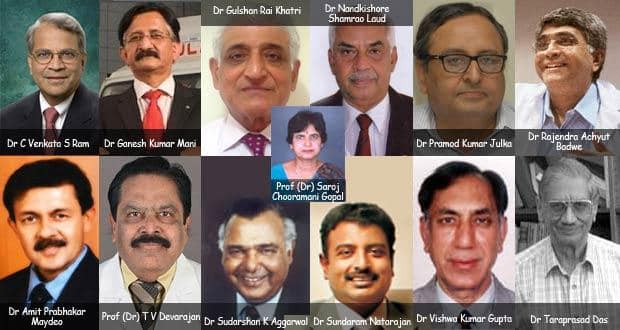 108 eminent personalities made it to the list of the highest civilian awards of the country – the Padma Awards. The list included 14 doctors  who made outstanding contribution in the medical field.
Padma Bhushan
The Padma Bhushan was conferred on Dr Nandkishore Shamrao Laud this year for his contributions in the field of medicine. A specialist on trauma healthcare, Dr Laud was selected as an International Scholar by the International Centre for Speciality Studies, Cleveland Clinic Centre, USA in 1983. In addition to this, he also published many scientific papers based on original research work in national and international journals. Dr Laud specialises in hip-and-knee replacement surgeries and has won many national and international honours.
Padma Shri
Dr Sudarshan K Aggarwal from Delhi is well-known for his contribution in the growth of radiology and for introducing advanced diagnostic technologies in the country. He is also the Founder President of the SAARC Society of Radiology. He went abroad for higher studies and upon his return, he introduced newer imaging techniques and procedures. He received various honours and awards for all his contributions.
Dr C Venkata S Ram alias Chitta, Venkata Sundara Ram from Andhra Pradesh, is the CEO and President of Mediciti Group of Institutions, Hyderabad. He has authored over 300 publications and had the honour of discussing public health policies with three former prime ministers of the country. Dr Ram was also the Director of the Texas Blood Pressure Institute and the Director of Medical Education at the Dallas Nephrology Associates.
Dr Rajendra Achyut Badwe from Maharashtra is a noted surgeon, best known for his pioneering work to beat breast cancer. He is also the leader of the Innovation Council for Cancer Research and a noted oncologist. His innovative research has led to many cost-effective, life saving treatments. He is the Head of Department of surgical oncology at the Tata Memorial Hospital, Mumbai.  
Dr Taraprasad Das from Odisha is the Vice Chairman of LV Prasad Eye Institute. He's trained in medical and surgical management of vitreo retinal diseases and has led various research programmes including infective endophthalmitis, diabetic retinopathy and age-related macular degeneration. He has won various awards and was honoured with Doctorate of Science (Honaris Causa) by the Raveshaw University in 2011.
Prof (Dr) T V Devarajan from Tamil Nadu specialises in internal medicine and intensive care, and is a Senior Consultant Physician at Apollo Hospitals in Chennai. He's been a receiver of the Fellow of the Royal College of Physicians Degree and winner of the Dr BC Roy National Award. He has also authored books — Aids to Clinical Medicine and Medicine in a Nutshell.
Prof (Dr) Saroj Chooramani Gopal from Uttar Pradesh specialises in paediatric and neonatal surgery, paediatric urology and laparoscopy. She completed her MCh in Pediatric Surgery from AIIMS, Delhi in 1973, becoming the first woman pediatric surgeon in the country. Many of her low-cost innovations for the benefit of poor families have been patented by the National Research & Development Corporation.
Dr Pramod Kumar Julka from Delhi has won many awards in the past like the Leading Scientist of the World in 2005, from the International Biographical Centre of Cambridge and the OISCA Foundation Award for his contribution to cancer treatment and research. He is a professor at AIIMS in the department of radiotherapy and oncology. He was also elected the president of the Northern Chapter of Association of Radiation Oncologists of India.
Dr Gulshan Rai Khatri from Delhi monitored India's TB programme from 1996-2002, and the treatment success rates rose from 26 per cent to over 80 per cent and the death rate went down to 5 per cent, preventing millions from getting TB infections.  He is now a Senior Public Health Advisor at the World Lung Foundation.
Dr Ganesh Kumar Mani from Delhi is a Senior Consultant in Cardiothoracic and Vascular Surgery at the Indraprastha Apollo Hospitals, and has performed over 17,000 cardiac surgeries. He was successful in reducing the morbidity and mortality rates from 20 per cent to 1 per cent, including high risk cases. One of his many awards is the Cardiology Excellence Award for 2000-2001 from the Indian Medical Association.
Dr Amit Prabhakar Maydeo from Maharashtra is one of the country's leading gastroenterologists and has done pioneering work in the fields of therapeutic endoscopy and ERCP (endoscopic retrograde cholangiopancreatography). His brainchild, the Baldota Institute of Digestive Sciences, is the most comprehensive and advanced centre for Gastroenterology and GI Endoscopy in India.
Dr Sundaram Natarajan from Maharashtra is an ophthalmologist who has won many accolades in his career. He laid the foundation of the Aditya Jyot Eye Hospital Pvt Ltd in 1990, and continues servicing the institution as its Director and Surgeon, guiding a community of vitreo retinal specialists. He hails from a family of ophthalmologists and has worked at various other hospitals before he started his own.
Prof Krishna Chandra Chunekar from Uttar Pradesh has been working in the field of herbal pharmacy for over 50 years now. He was a faculty member of the Ayurveda College at the Institute of Medical Sciences, Banaras Hindu University. He has translated Vedic literature on herbal pharmacopeia and is an expert on the botanical identification of Ayurvedic medicinal plants.
Dr Vishwa Kumar Gupta from Delhi served as the National President of the Indian Institute of Homeopathic Physicians twice — from 1998-2000, and 2000-2002. He has presented several scientific papers at many homeopathic national and international conferences and been on many panels as a member under the Ministry of Health and Family Welfare. He also served as member of Central Council of Homeopathy from 1990-95.