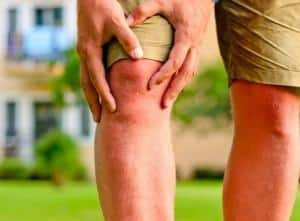 12th October is World Arthritis Day. And this year, the theme is 'healthy ageing for people with rheumatic and musculoskeletal diseases'.  In order to shed more light on this age-old problem, we connected with Dr Smarajit Chakrabarty, a renowned orthopaedic surgeon attached to a number of hospitals in Delhi including the Max Super Specialty Hospital and Apollo Hospitals. In this post, he tells us the connection between old age and arthritis and also busts a popular myth that the condition affects only the elderly. He also shares some of the latest advances in the treatment of osteoarthritis.
Osteoarthritis is a condition where the shiny cartilaginous lining at the ends of the bones is lost or worn away with use. It follows, therefore, that this disease will be seen primarily in the elderly. The life of this lining, and therefore the life of a joint, is around 48-50 years, unchanged structurally in the last two million years, so patients with symptoms of osteoarthritis will present to their doctors at roughly this age.
For the same reason, osteoarthritis is seen commonly in weight bearing joints (the spine, hip or knee), where the cartilaginous lining is subjected to more stress, or in the small joints of the thumbs and some other fingers, where the joints are used more repeatedly. And again, for the same reason, symptoms of arthritis will be present on both sides together. (Read: Arthritis: Understanding the disease)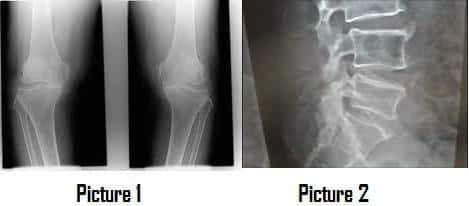 Pictures 1 and 2 are x-rays showing the degenerative changes typical of osteoarthritis in the knee and spine. Osteoarthritis of the hip is rare in India.
Not restricted to the elderly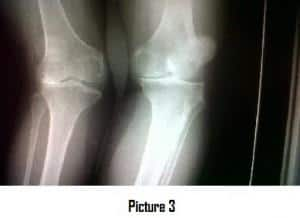 Osteoarthritis can occur in younger subjects too —and here the changes of arthritis will be seen only in an isolated joint if the  joint has been mal-aligned for long, owing to trauma or disease. Picture number 3 shows the x-ray of a young lady with arthritis of the knees and a valgus deformity on the right side. She suffered from polio as a child and that left her joint incongruent.
It is prudent to know that there are a hundred different types of arthritides known, and some varieties of arthritides occur with alarming regularity in younger people, and even children.
The future of osteoarthritis treatment is here!
Research is continually in progress in this field, and in the recent past, there has been advancement in at least three areas as under:
Technical Advancement: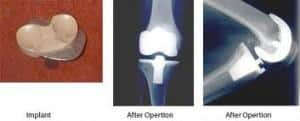 Hi-flex knee: Range of motion in the knee, and particularly knee bending (flexion), has traditionally been one of the most important factors used to determine success after a replacement, as many functional activities are dependent upon it. Climbing a flight of stairs requires 90 to 120 degrees of flexion; getting into and out of a bath up to 135 degrees, and cultural and religious activities such as squatting, kneeling and sitting cross-legged require up to 165 degrees. Following a knee replacement, however, knee flexion seldom exceeds 110 to 115 degrees, and while substantial functional improvements do occur post-operatively, they typically remain lower than those in a normal, non-arthritic knee. Implants designed to accommodate — or even facilitate greater knee flexion –whilst maintaining stability has recently emerged. Called the Hi-flex Knee, it is claimed that this implant can offer flexion of 135 to 150 degrees. 
Modification in the Surgical Technique: Minimally-invasive is a new surgical technique that allows surgeons to insert the traditionally used,  time-tested reliable knee replacement implants through a shorter incision using surgical approach that avoids trauma to the quadriceps muscle (the most important muscle group around the knee). This new technique, which is sometimes called the Quadriceps Sparing Knee Replacement, uses an incision that is typically only 3 to 4 inches in length, and the recovery time is much quicker, often permitting patients to walk with a stick within a couple of weeks of the operation, or even earlier. The less traumatic nature of the surgical approach also may decrease post-operative pain and diminish the need for rehab and physiotherapy compared to more traditional approaches.
Revolutionary approach without surgery or drugs: (APOS): A bio-mechanical device worn on the foot, APOS therapy is done with a device which is individually calibrated, and is said to deliver long lasting pain relief and improved function and mobility by transferring the line of stress on the joint from the diseased to a more healthy area. APOS is yet to come to India. (Read: Total Knee Replacement: Common queries answered)
Treatments aside, what one needs to really focus on is the changes in the lifestyle one needs to make in order to live a full life with arthritis. Read more about them here. 
 For more articles on diseases and conditions, check out our diseases & conditions section and for videos, check out our YouTube Channel.