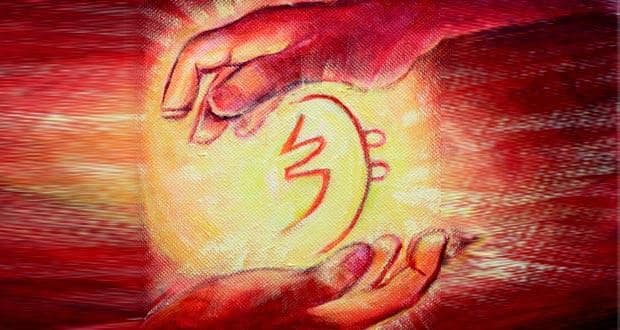 When experiencing pain, the first thing most people do is to put their hands on it. Human touch conveys warmth, serenity, love, caring and healing. When an animal is in pain, for the same reasons – a dog or cat's first instinct is to lick the pained area. This simple act is the basis for all touch healing techniques. The living being, human, animal or plant radiates warmth and energy. This energy is the life force itself! In Japan the energy is termed Ki and it is from this word that Reiki is named.
In today's day and age when everybody is looking for a cure to a number of diseases, something holistic and without side effects is like a boon. Reiki is one such ancient system of natural healing based on the Usui system. In this post, we discuss some of its basics.
How does Reiki work?
Reiki is based on the principle of bringing your body into attunement. It rearranges the body's chakras (considered to be centres connected to major organs or glands that govern the body's functions). It is beyond sickness and death and thus beyond healing. The only way a person can heal is to be unaffected by the programming that causes the disease and to 'allow things to be as they are'. It aims to make the body so stable that it remains unaffected thereby avoiding any diseases.
How does Reiki help achieve good health?
Reiki creates deep relaxation and aids the body to release stress and tension
It accelerates the body's self-healing abilities
It aids better sleep
Helps to reduces blood pressure
Can help with acute (injuries) and chronic problems (asthma, eczema, headaches, etc.)
Helps with deaddiction
Helps relieve pain
Removes energy blockages, adjusts the energy flow of the endocrine system bringing the body into balance and harmony
Assists the body in cleansing itself from toxins
Reduces some of the side effects of drugs and helps the body to recover from drug therapy after surgery and chemotherapy
Supports the immune system
Increases vitality and postpones the aging process
Raises the vibrational frequency of the body
Helps spiritual growth and emotional clearing
What happens during a Reiki treatment?
Receiving a Reiki treatment is a simple, non-intrusive yet extremely powerful 
process. A full session lasts about one hour but specific areas can be treated in 20-30minutes.The therapist gently places their hands in various positions on the body. These positions are held for a few minutes. No manipulation is used. The pressure is very light.
Reiki goes to the deeper levels of a persons being where many diseases can have their origin. It harmonizes your life energy and increases the body's ability to heal itself. It works where it is most needed, releasing blocked energies. This enables the healing to go right to the source of the imbalance and not just to the manifesting symptoms.
During a treatment you may feel a pleasant sensation of warmth or gentle tingling in the area being treated. As the energy comes into balance, stress and tension are released and there is a deep sense of relaxation and well-being.
How can one learn Reiki?
The beauty of Reiki is its simplicity, its simplicity in practice and its simplicity in teaching. Reiki teaching, up to the present, has been principally an oral tradition.
Reiki isn't taught in the way other healing techniques are taught. A Reiki Master through an attunementprocess transfers Reiki to a student. This process opens up the crown, heart and palm chakras and creates a special link between the student and the Reiki source. Anyone can learn Reiki and you are not required to have any prior knowledge or experience.
The first level of Reiki is taught within a span of two to three days. Once you have crossed the first level the second and the third can be learnt after a period of practice.
Learning Reiki is about being, and no amount of learning can bring this about. Reiki teaches you to be who you are and in tune with your body mind and soul. Simply learning because you desire knowledge on the subject is not enough, it is important to want to internalize and practice Reiki. Very often, we judge a person by what he has accumulated rater than what he is. Reiki teaches you to look deeper at the person rather than what he has, knows or owns.  The first principle is to start doing it; practicing Reiki is as simple as doing it. Reiki teaches you to stop trying to understand and to start practicing and believing. 
As the core principles of Reiki go –
JUST FOR TODAY I WILL LIVE THE ATTITUDE OF GRATITUDE
JUST FOR TODAY I WILL NOT WORRY
JUST FOR TODAY I WILL NOT ANGER
JUST FOR TODAY I WILL DO MY WORK HONESTLY
JUST FOR TODAY I WILL SHOW LOVE AND RESPECT TO EVERY LIVING THING