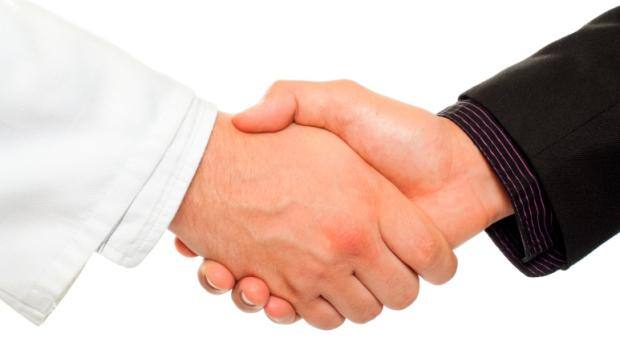 India's public healthcare sector is in terrible shape. Public healthcare practitioners – doctors, nurses and paramedics – fed up with the high stress environment and low pay are leaving for greener private pastures. Things are even worse in the rural sector, causing Rural Development Minister Jairam Ramesh to say that the country's public healthcare system had collapsed! While we harp on about the government not spending enough on healthcare ( a woeful 1% of GDP) no one who can afford it actually uses government facilities. In this grim atmosphere, the powers-that-be seem to have come to a conclusion that the only way forward is Public-Private Partnerships (PPP). Health minister Azad, PM Singh, Standing Committee Deputy Chairman Montek Singh Ahluwalia and President Mukherjee have all spoken about providing Universal Health Coverage – healthcare for all and they believe PPP can help us achieve it, which brings us to the question – what exactly is this public-private partnership (PPP)?
In India, PPP usually means a partnership where the government pays a private company to provide a service for a period of time. Some of the major sectors in India where PPP has borne fruit are infrastructure, telecom, irrigation, power and airports but can it work for the healthcare sector in India? There are two possible scenarios: 
The positive scenario:
If things work out, it could:
1)      Increase accessibility and availability of services to rural India
Most of the major private hospitals are located in the metro centres and PPPs could really help improve services in rural India. Major health centres driven by PPP could bring the necessary resources – human and others – to rural India.  Incidentally, the private sector owns most of the resources. It currently has 80% of all doctors, 26% of nurses, 49% of beds and 78% of ambulatory services and 60% of in-patient care. It seems outrageous not to exploit those resources.   Ahluwalia noted that till now all PPP initiatives had so far been targeted at metros and he urged the healthcare industry to look at PPP models for the rural sector.
2)      Increase the quality and quantity of manpower available
While there are some premier private and public medical institutions in this country, there are no superlative medical institution brands like the IITs and IIMs. Due to various reasons, many of the private medical institutions in this country are extremely poor and PPP in the medical education sector could really address this deficit. Incidentally, the health minister also feels the same way.
3)      It would improve primary care services which in turn would improve quality of life
Most private players are in the secondary and tertiary sector leaving a gulf in the primary care facilities. This is obviously because of the supply and demand principle because people only seek healthcare services when they are seriously ill. Now only if quality primary care was readily available and accessible, a lot of diseases could be prevented which in turn would bring down total healthcare costs.
The negative scenario: 
1)      It would corporatize healthcare
Health activists were left aghast by the PPP suggestion because they felt it would corporatize healthcare and there's always that possibility. Following a PPP model could make the healthcare industry a simple profit and loss one which could leave out the most vulnerable sections of society – those that can't afford it.
2)      It could lead to widespread corruption
Corruption is one of the biggest problems and an argument can be made that if there wasn't any corruption then Universal Health Coverage would've been achieved a long time ago. Now while there have been cases of corruption against health initiatives like the NRHM in UP, none of them can compare in sheer magnitude to the Commonwealth Games' scam where an astounding Rs 8000 cr was siphoned off. Now imagine if the healthcare industry functioned like this and government handed out contracts to their 'companies' it would surely lead to non-existent healthcare services and even greater inequity in healthcare resources.
3)      The Government could completely get out of the healthcare sector
One of the other worries healthcare activists had was that a PPP model would see the government stop providing healthcare services to the people.  'This would mean that the government would over time confine itself to providing small package services and would be primarily  just a purchaser of virtually all clinical services from the corporatized private sector. The government would, thus, finance (with public money), strengthen and bolster an already resurgent corporate sector providing medical services,' Jashodhara Dasgupta of Sahyog and member of HLEG said adding that it would also decisively halt and eventually reverse the moderate achievements of the National Rural Health Mission in expanding public health infrastructure and services.
Incidentally, PPP models have worked remarkably in the international healthcare scenario. More or less all international healthcare providers or regulators work on the PPP model the most notable example being the World Health Organisation. The WHO is financed by UN member states along with private organisations like the Rockefeller foundation and the Bill and Melinda Gates Foundation and it is without a doubt one of the most successful PPPs devised. But can that be replicated in India?