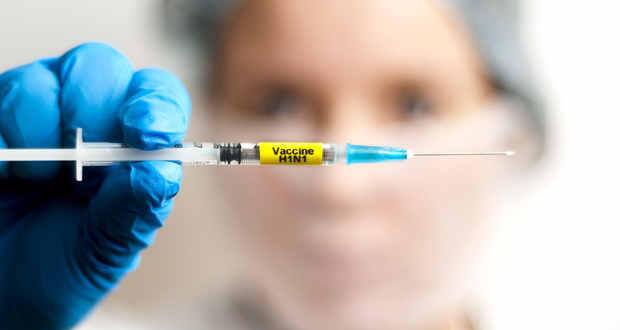 While accepting that there's been a surge in swine flu cases across the northern states the health ministry has ruled out universal vaccine against H1N1 at this stage of the outbreak. 'Various sub types of Seasonal Influenza virus are circulating and causing the present spurt in cases in the States of Rajasthan, Delhi, Haryana and Punjab. Notable among them is Influenza A H1N1 virus that caused the pandemic in 2009,' said an official release.
Over 700 people have been affected by the virus across the country though there is no way to determine how accurate the official figures are because many cases can go undetected.
'Following reports appearing in certain sections of the media, it is reiterated that seasonal influenza is spread from human to human by droplets generated by a patient during coughing, sneezing etc. There is no role of pigs or poultry in causing such episodes of seasonal influenza. Accordingly simple public health measures like frequent hand wash, covering nose and mouth with tissue paper or handkerchief, avoiding crowded places are appropriate preventive measures for this disease,' it said.
Read more about causes, symptoms, diagnosis and treatment of swine flu.
The health ministry also said that the country was well stocked with oseltamivir with the various hospitals in different states and a central stockpile that is maintained by the Union Health Ministry.
'Most of the cases are mild and requires only symptomatic treatment. However, self-recognition of symptoms of fever, cough, body ache etc. and early reporting to an identified hospital is crucial in getting appropriate medical advice. This is more so important for people in extremes of age, pregnant women, people with co morbid conditions such as diabetes, lung diseases, heart disease, liver disease, kidney disease, blood disorders, neurological disorders, immune-compromised patients, those on long term corticosteroid therapy, cancer and HIV/AIDS. Also, if these categories of people come in contact with a diagnosed case of seasonal influenza, they are advised to take oseltamivir drug as prophylaxis,' the release said.
Retail or over-the-counter sale of oseltamivir is restricted because indiscriminate use could lead to lead to  resistance against it, according to the Health Ministry. 
Prevention
Swine flu isn't a disease that you can catch from pigs. It is in fact, a human virus that spreads from one human to another. The virus is extremely contagious. Here are some swine flu prevention tips: 
It can spread through coughing and sneezing so always cover your face while doing so. And make sure people around you in office or home also follow this.

Avoid touching your eyes, nose or mouth too often

Maintain a high level of personal hygiene. Always wash your hands before or after eating and particularly after returning from a public place.

Sometimes virus can spread through droplets that have remained on surfaces of things like laptops, phones so avoid using someone else's items.

Avoid public places, unhygienic conditions, etc.

If your city/area is swine-flu endemic, always wear a standard swine flu mask  in public places (the H-95 mask which is worn by nurses and doctors while collecting samples from swine flu victims). Normal surgical masks which sell like hot cakes during swine flu season might not give enough protection.

If you feel sick and look like you are developing a cold or fever, stay at home and take enough rest. Rest has also been shown to increase 'interferons' which help our immunity to fight the virus better. Keeping away from others also prevents spread of the infection.
Also read: Swine flu: All you need to know
For more articles on diseases & conditions , visit our diseases & conditions section. Follow us on Facebook and Twitter for all the latest updates! For daily free health tips, sign up for our newsletter. And to join discussions on health topics of your choice, visit our forum.