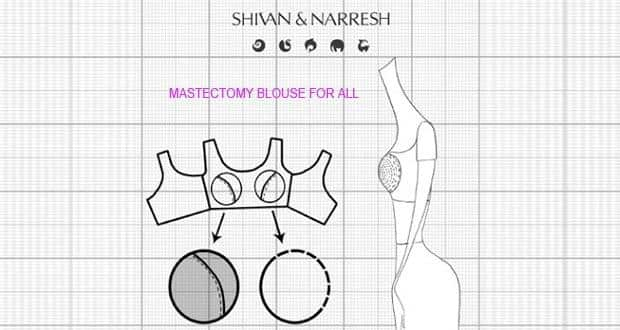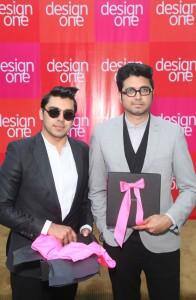 Indian designers Shivan & Narresh have designed a 'Mastectomy Blouse for All' in order to save breast cancer survivors the trauma of losing their breasts. Now women who have lost their breasts due to cancer can walk with confidence after wearing this blouse which will be available at concessional prices very soon. Kriti Saraswat delves into details in this interview with the duo, Shivan & Narresh.
What is a mastectomy blouse? When did you launch it?
The 'Mastectomy Blouse for All' is an initiative by our brand for breast cancer survivors. This blouse with an in-built prosthetic breast, acts like a cure to the social trauma that a woman undergoes on losing a breast besides the physical trauma of suffering from cancer. The blouse is proposed for Indian women – many of whom living in villages aren't even exposed to the idea of bras, to be able to wear the Indian sari without any inhibitions or lack of confidence or self-esteem.
The blouse was launched on February 18, 2013 in collaboration with Women's Cancer Initiative – Tata Memorial Hospital.
How did you come up with this idea?
Narresh: Losing my father to cancer in 2011, after six months of gruesome sessions of medical procedures, surgeries and therapies completely changed by perception towards life. Watching him go through that struggle beyond just the hospital, and watch him ignore meeting all his loved ones only to keep his self-esteem and confidence intact, made us realise how important it is for every individual to live each and every moment of their lives with self-esteem and dignity.
The seeds for this initiative were germinated then and we knew that our brand's vision for confidence and pride amongst Indian women for their body types was not just about limiting to fashion, but a necessity for a healthy life. These became the foundations in inventing the 'Mastectomy Blouse for All' for breast cancer survivors – for infusing a sense of social confidence for the women survivors. As an intimate Indian brand, we were aware of the most innate reasons why women in India felt less confident about their bodies and suffer from low self-esteem. The 'Mastectomy Blouse for All' was our tool to provide a cosmetic solution to the cause as we felt it was necessary for the survivors to deal with society, which can often be insensitive with a frivolous outlook towards beauty.
Where will it be available and how much will it cost?
The retail of this blouse has been planned across three channels of distribution: the first price bracket would be applicable at the retail of the blouse from our flagship stores (customised sizes only) in Mumbai and Delhi, the second price bracket (for ready-to-wear blouses) would be based on the concession of the first, allowing chemists and hospitals to retail the blouse (standardized sizes), and the third bracket is a further concession which will allow NGOs and corporates to buy and donate the blouses (standardized sizes) for the cause. Costing can be variable depending on the donation quantities.
Do you have any future plans to launch a collection line for such apparels?
Yes, this blouse is a prelude to our mastectomy swimwear service, where we intend to customise swimsuits for breast cancer survivors so that they can recreate around water confidently and without any inhibitions.
What reviews did you get about it until now?
The product has just been launched post its inception stage, and we are inviting collaborations with corporates and NGOs for its effective distribution and retail, for it to be accessible to women across the country.
Read more about causes, symptoms, diagnosis and treatment of breast cancer.
You may also like to read:
For more on women's health, visit our women's health section. Follow us on Facebook and Twitter for all the latest updates! For daily free health tips, sign up for our newsletter. And to join discussions on health topics of your choice, visit our forum.