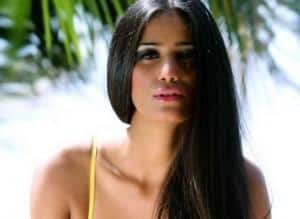 A big No.
We're ready to blame anyone and anything other than the perpetrators for rape in this country. First it was Western values, then mobile phones, short dresses and now Poonam Pandey! Understandably, the controversial model is miffed about it all and outraged that her provocative pictures on the internet and magazines are responsible for the increase in crimes against women.  Poonam, who recently made her Bollywood debut with a bold film Nasha, says she was 'constantly badgered and persuaded to feel guilty about the crime' a day after the gang-rape of a photojournalist here last week.
'Apparently my pictures are responsible for crime against women. Ha ha, really? The same reasoning was used against me during the Nirbhaya case in Delhi. I want to ask all those people who find me provocative enough to induce crime, was there no crime against women before I arrived on the scene,' Poonam asked while speaking to IANS. She feels people need a scapegoat for their own failings.
'Why blame me for social evils? I am just a girl trying to find my place in the world. I'm used to being targeted by the moral police and the morcha-wallis. When law and order fails, the blame has to be pinned to some convenient target. But why blame me? What have I done?' she asked.
'Main toh sirf baat karti hoon. Maine kuch kiya nahin ((I only talk. I haven't done anything). There are renowned respected actresses who heave and thrust in item songs. They are watched by a lot more men than I am,' she added.
Poonam is adamant that rape has no connection with the pin-up provocateurs. 'I don't think men go out and commit crime against women because of what they see in films and in pictures. On the contrary, I feel there would be far less crime against women if there would be more sexual gratification at home for men belonging to a certain class, who don't have direct and easy access to female company,' she said.
This is where Poonam feels the revival of the beer bar culture does its bit. 'I think re-opening the beer bars would reduce crime against women on the streets. Men would be able to have at least some access to erotic gratification,' said the model-cum-actress. Poonam objects strongly to the view that women invite unwanted attention by the way they dress.
'Oh please! Five-year-old girls get raped. Do they wear short skirts that provoke such crimes? It is ridiculous to suggest that rape can be prevented if women remain fully clothed,' she said. In any case, Poonam feels mainstream Hindi cinema has a lot to be answerable for. 'I've seen them indulge in shameless sex talk where heroes are making pointed references to women's body parts. What kind of example are these iconic stars setting,' she asked.  'I've never posed nude. Even that picture that was posted of me nude after the Indian Premier League (IPL) victory (of Kolkata Knight Riders) was morphed. I even admitted that later at the risk of disappointing my fans. I've threatened to go nude. But have I really done it?' 
Why are we willing to blame everything rather than our patriarchal mindset?
It's strange really this blame game. This is a phenomenon that seems unique only in India though the blaming the victim and everyone else except the perpetrators (one exception in the developed world might be Ivy League institutions like Yale, where a rape isn't even called that and is instead called 'non consensual sex' and is punishable only by a written remand). The truth is that in India, we look for scapegoats – the US media doesn't blame Kim Kardashian or her sex tapes for rapes. (Read: India – no country for women)
If dresses or women drinking alcohol was the issue how do you explain the fact that five-year-olds are brutally raped? The problem is that our collective national consciousness doesn't recognise women as equals. They're killed off even before they're born and treated as second class citizens all their life. Think about it, when ever have you heard an argument that fights for the rights of the 'daughters of the soil'?  The truth is that rape doesn't have anything to do with sex whatsoever and is actually a crime of violence. Until we realise the real issue at hand, there will not be an arrest in the rate of sexual crimes in women. 
With inputs from IANS