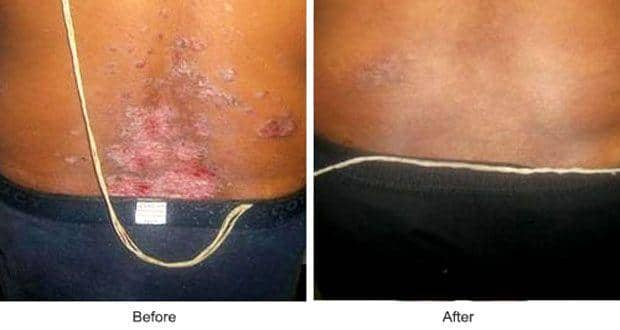 Psoriasis is a condition capable of affecting one's career, relationships and confidence. Patients have been treated for years with conventional medicine resulting in only remission of the symptoms for a while, leading to a flare-up again. Psoriasis is a chronic condition which needs to be treated holistically, from the inside. Some of the alternative therapies like Homeopathy have shown significant success with Psoriasis patients.
To understand how homeopathy can treat Psoriasis, one needs to first understand the cause of the disease well.  We shall try and answer some of the questions most people suffering from Psoriasis usually have:
 "Why do I have Psoriasis?"
While science hasn't been able to pinpoint the exact cause as yet, a significant genetic predisposition has been seen (which means if any of your close relatives suffer from any autoimmune disease, not particularly Psoriasis), it might have been passed on to you via the genes. It is an autoimmune disease where the defense cells of the body start attacking their own skin cells by mistake. The skin cells when attacked, respond to it by starting to multiply abnormally leading to thickened skin and shedding of scales. This causes raw, red, peeling areas on the skin.
"How can I get treated for Psoriasis?"
Most treatments that are available work at a superficial level on the skin, to reduce redness and itching. Topical applications (ointments) containing steroid and retinoid work on reducing the rate of skin turnover and removing scales from the area. Phototherapy (exposure to UV rays) along with oral administration of a substance called Psolaren works by inhibiting the abnormal reproduction of skin cells in Psoriasis.
If your Psoriasis is not getting better with the above options, your doctor might prescribe you oral or injectable drugs like Methotrexate, Cyclosporine or Retinoids. There work by suppressing your immunity.
All these treatments have side-effects ranging from headache, nausea, ulcerations and can even lead to skin cancer if not administered properly.
Alternative therapies like Homeopathy have been known to help. A study published in the Journal of the European Academy of Dermatology and Venereology, a conventional medical Journal, showed that psoriasis patients experienced significant improvement in their quality of life and reduction in their psoriasis symptoms with Homeopathy. And this was without any kind of side-effects whatsoever. Of the 82 patients involved in the study that went on for 2 years, many had suffered psoriasis for as long as 15 years and had previously unsuccessfully tried conventional treatments.
"How can Homeopathy help me with my Psoriasis?"
In Psoriasis, our immunity needs to be strengthened from within and should be able to identify all our body cells as its own. Homeopathy assesses the individual as a whole and does not only treat symptoms. The environment, the person's temperament and the presenting symptoms are all considered before prescribing the 'remedy' to the patient. Thus, no two people with psoriasis might have the exact same remedy. Homeopathy works on the principle 'Like treats like'. Very small, infinitesimal dose of the substance which causes symptoms similar to the disease is diluted and packed into the sugar pills. With these doses, the body's immunity recognizes its skin cells as it own, thus reducing the severity of the condition.
 "How should I modify my lifestyle to deal with Psoriasis better?"
Treat your skin with a lot of care:
- Use lukewarm (and not hot) water with mild, non-fragrant soaps
- Apply a good, non-fragrant, mild moisturizer/ olive oil after bath to seal in the moisture
- Use a mild, non-fragrant shampoo
- Wear well-fitting, cotton clothes
- Cover your skin well in winter to avoid exposure to the winter cold and dryness
- Take care not to get your skin injured
- Trim your nails regularly to avoid scratching which might lead to a flare-up of symptoms
Adopt a healthy lifestyle:
- Quit smoking and alcohol
- Maintain a healthy weight (in case your joints are affected by Psoriasis, consult your doctor before starting any exercise regimen)
- Take up relaxation techniques like meditation and yoga to reduce mental stress
- Avoid red meat as it has been seen to increase inflammation in the affected areas
- One home remedy that seems to have helped many people is the intake of flax seeds (Alsi). The omega 3 fatty acids in flax seeds apparently modify the chain of events that cause Psoriasis. Just before breakfast and dinner every day, roast and grind the seeds. Mix with two spoons of water and eat the paste.
- A 15 minute exposure to the morning sun (before 9 AM) is also known to help.
It's time you strive towards a Psoriasis-free life, a little lifestyle modification and Homeopathy is all it takes!
Read more about causes, symptoms, diagnosis and treatment of psorasis.
For more articles on diseases & conditions , visit our diseases & conditions section. Follow us on Facebook and Twitter for all the latest updates! For daily free health tips, sign up for our newsletter. And to join discussions on health topics of your choice, visit our forum.