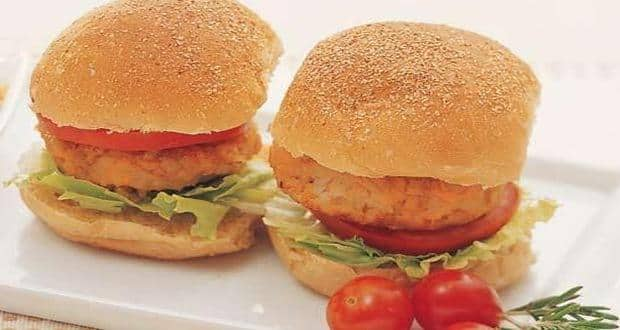 Can't imagine healthy burgers? Try this brown bread-soya cutlet combination with low calorie Thousand Island dressing. The chemical content in soya helps control diabetes and prevents nerve damage.
Preparation Time: 20 mins
Cooking Time: 5 mins
Makes 6
Ingredients
FOR THE BURGER
Brown bread buns 6
FOR THE CUTLETS
Soya granules 1/2 cup
Carrot, grated 3/4 cup
Onions, finely chopped 1/2 cup
Mushrooms (khumbh), finely chopped 1/3 cup
Low fat cottage cheese (paneer), grated 3/4 cup
Soy sauce 1 tsp
Chilli sauce 1 tsp
Whole wheat flour (gehun ka atta) 2 tbsp
Oil for cooking 1 1/2 tsp
Salt and black pepper (kalimirch) powder to taste
FOR THE LOW CALORIE THOUSAND ISLAND DRESSING
Thick fresh low fat curds (dahi) 1/4 cup
Mustard (rai / sarson) powder 1/2 tsp
Tomato ketchup 1 1/2 tbsp
Chilli sauce 1/2 tsp
Onions, chopped 1 tsp
Capsicum, chopped 1 tsp
Green chillies, chopped 1/4 tsp
Sugar substitute a pinch
Salt to taste
Other ingredients
Lettuce leaves 12
Onion slices 6
Cucumber slices 12
Tomato slices 12
Method
For the cutlets
Clean and wash the soya granules thoroughly and soak in 1 cup of hot water for 15 minutes. Drain the granules and discard the water.

Combine all the remaining ingredients in a bowl and mix well.

Divide the mixture into 6 equal parts and shape into flat patties.

Cook on a non-stick pan using a little oil till both sides are golden brown. Keep aside.
For the dressing
Mix all the ingredients thoroughly and keep aside.
How to proceed
Slice each bun into two halves and toast lightly in an oven or on a tava (griddle).

Spread some of the low calorie Thousand Island dressing on each half.

On one half, arrange 2 lettuce leaves, 1 cutlet, 1 onion slice, 2 cucumber slices and 2 tomato slices and cover with the other half of the bun.

Serve immediately.
Nutrient values per serving
| | | | | | | |
| --- | --- | --- | --- | --- | --- | --- |
| Energy | Carbohydrates | Fat | Protein | Iron | Fibre | Zinc |
| 231 cal. | 40.0 gm. | 3.9 gm. | 9.2 gm. | 3.7 mg. | 1.6 gm. | 1.4 mg. |
Here is the original recipe source: Nutritious burger by Tarla Dalal
Read more about causes, symptoms, diagnosis and treatment of diabetes.
 You may also like to read:
For more articles on diabetes, check out our diabetes section and Diabetes page. Follow us on Facebook and Twitter for all the latest updates! For daily free health tips, sign up for our newsletter. And to join discussions on health topics of your choice, visit our forum.