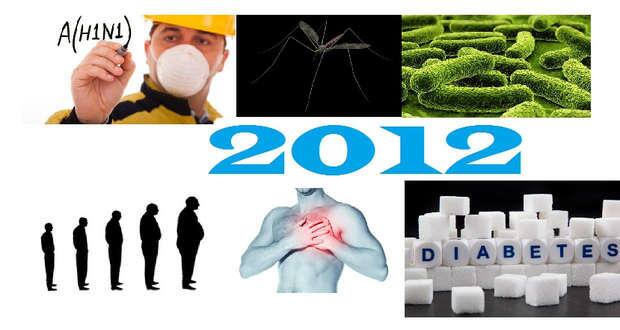 Diseases in 2012 followed a similar trend to previous years. India plays host to several seasonal ones like dengue, fever, malaria, tuberculosis and swine flu which show up during particular seasons in some particular states but that still didn't stop our healthcare system to be caught completely unawares. There was also an increased emphasis on prevention and awareness of lifestyle diseases like cancer, heart disease, diabetes and obesity-related conditions.
Here are some diseases that grabbed headlines this year:
The year started with experts claiming they had detected a totally-drug resistant TB strain and while that proved to be a myth the fact remains that due to unawareness and misdirected treatment methods, TB is one of India's biggest healthcare risks, especially in urban centres like Mumbai.  Incidentally, BMC's efforts to contain the disease were lauded and we can hope that the RNTCP's DOTS method can prevent the disease from becoming reaching epidemic proportions.
Dengue fever has become synonymous with the monsoon season in India but that doesn't prevent authorities of all the affected states from being gravely underprepared every time the mosquitoes make a comeback. India recorded over 37,000 dengue cases and 227 dengue deaths including veteran director Yash Chopra. There was a 97% increase in number of cases and 34% increase in number of deaths from 2011.
Read more about causes, symptoms, diagnosis and treatment of dengue.
Like malaria and dengue, swine flu has become another seasonal disease. This year it particularly affected the states of Maharashtra, Rajasthan, Tamil Nadu, Himachal Pradesh, Madhya Pradesh, Uttar Pradesh, Karnataka and Kerala. The government of course came out with its stock 'there's nothing to worry about' statements despite there being a vaccine shortage and helplines being out of order.
Read more about causes, symptoms, diagnosis and treatment of swine flu.
There was panic in Bihar as some mysterious encephalitis-like disease starting killing local children. On closer inspection it turned out to be Acute Encephalitis Syndrome (AES), which along with Japanese Encephalitis wreaked havoc in UP, Bihar and Orissa, needless to say aided and abated by the unpreparedness, unawareness and unnecessary red-tape of the authorities.
Mosquito-borne illnesses are without a doubt a big problem in India but there's some good news on that front. WHO's World Malaria Report 2012 projections predict that there'll be a decrease of 50-75% in case incidence in India. However, lack of funds could play spoilsport. There was also a major expose by the Guardian which suggested malaria drugs provided by India and China to African notions were counterfeit.
Thanks to rapid urbanisation, changing food habits, increased stressed levels and a sedentary lifestyle coupled with increased smoking and alcohol-consumption more and more Indians are being struck by the so-called lifestyle diseases – heart diseases, cancers, obesity-related conditions, diabetes and hypertension. Various days like World Heart Day, World Diabetes Day, World Cancer Day, etc. were observed to increase awareness about these ailments.
Read more about causes, symptoms, diagnosis and treatment of heart disease. 
Looking back, it's clear that our healthcare services need a major overhaul to deal with 'seasonal diseases' while there needs to be more emphasis on lifestyle diseases so people can realise that the choices they're making are tied to their health and well-being. Let us hope that in 2013, our healthcare services are prepared to deal with challenges.
Read more about causes, symptoms, diagnosis and treatment of diabetes.
For more articles on diseases & conditions , visit our diseases & conditions section. Follow us on Facebook and Twitter for all the latest updates! For daily free health tips, sign up for our newsletter. And to join discussions on health topics of your choice, visit our forum.