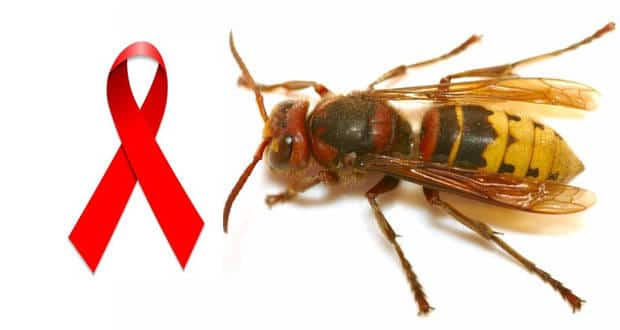 A new study suggests that bee venom might have the potency to kill the human immunodeficiency virus (HIV). Researchers at the Washington University School of Medicine have demonstrated that a toxin called melittin which is found in bee venom is the reason for this. The researchers used nanoparticle technology to target the virus. Particles smaller than HIV were infused with bee venom and since HIV cells are smaller than normal body cells the nanoparticles only targeted HIV.
'Melittin on the nanoparticles fuses with the viral envelope,' said research instructor Joshua L. Hood, MD, PhD. 'The melittin forms little pore-like attack complexes and ruptures the envelope, stripping it off the virus.' Adding, 'We are attacking an inherent physical property of HIV. Theoretically, there isn't any way for the virus to adapt to that. The virus has to have a protective coat, a double-layered membrane that covers the virus.'
How will this help?
This could be used to develop a vaginal gel to prevent HIV transmission while it could also be used as an intravenous treatment to help those that have been already infected.  'Our hope is that in places where HIV is running rampant, people could use this gel as a preventive measure to stop the initial infection,' said Hood.
The bee venom HIV study was published on Thursday in the journal Antiviral Therapy, according to U.S. News & World Report.
HIV/AIDS cure inevitable?
The momentum to find a cure for HIV seems to be gathering steam with a recent example being the case of the Mississippi baby that was completely cured of the virus by an aggressive bout of anti-HIV drugs which were administered 30 hours after her birth. The mother was diagnosed with HIV when she was in labour. Now, 2 years later the baby has shown no signs of infection and seems to completely HIV-free.
 Earlier, a man known as the Berlin patient was cured of the virus with a bone marrow transplant. The man called Timothy Brown had developed leukaemia (blood cancer) and after the first line of cancer treatments failed a bone marrow transplant procedure was done. Two transplants later, not only was his leukaemia in remission but his immune system had actually managed to ward off the virus. Brown no longer takes. Brown no longer takes antiretroviral drugs or tests positive for HIV. For all intents and purpose, Brown no longer has HIV.
However, bone marrow transplants can never become a widespread procedure for the millions suffering from HIV because finding the perfect donor is very hard and the procedure is too costly for people in third world countries where the disease has reached epidemic proportions.
 But we can all hope that a cure is in the offing. After all when the disease first reared its ugly head HIV was a sure death knell. Randy Shilts, author of the And The Band Played On –  a definitive work on the early HIV epidemic had said that by the 90s AIDS would become a manageable disease like diabetes and while his prediction was 20 years but anti-retroviral treatments these days has indeed made HIV a manageable disease. Will there be a cure and vaccine in the future? It seems inevitable.
Read more about causes, symptoms, diagnosis and treatment of hiv/aids.
For more articles on hiv/aids, visit our hiv/aids section. Follow us on Facebook and Twitter for all the latest updates! For daily free health tips, sign up for our newsletter. And to join discussions on health topics of your choice, visit our forum.