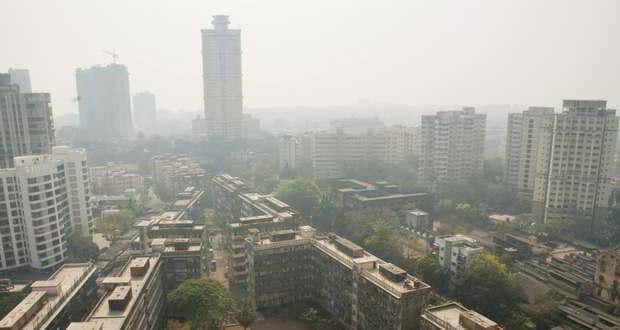 India is now ahead of China – and everyone else – in having the dubious distinction of having the world's most polluted air. Earlier this year an Environment Performance Index (EPI) report placed India at the bottom of the 132 countries assessed. Air in some Indian cities has particulate matter (PM) levels 5 times above safety limits.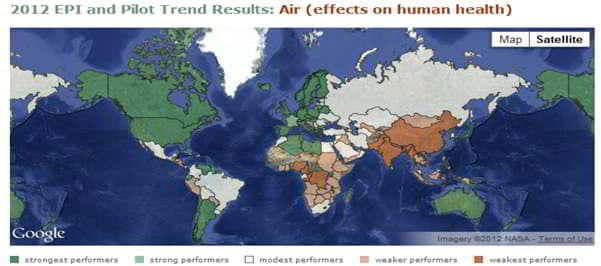 Source: http://epi.yale.edu/dataexplorer/indicatorprofiles?ind=eh.air
There is a never-ending flow of evidence linking emerging health epidemics and environmental pollution in India. Acute respiratory infections account for 13% deaths in hospitalized children in India. Poor lung function and attention-deficit hyperactivity disorder (ADHD) are on the rise in Delhi school children constantly exposed to high vehicular pollution. Recently WHO declared a direct link between diesel exhaust and cancer – raising further alarm bells regarding India's growing public health concerns. Data on air quality index (AQI) in major Indian cities is available.
Read more about causes, symptoms, diagnosis and treatment of ADHD.
Preventing and countering air pollution
Presence of pollutants such as chemicals, particulate matter or biological substances in natural atmosphere is harmful to all living organisms and environment. Air pollution leads to respiratory infections, heart disease and lung cancer. As per the World Health Organization (WHO), annually 1.3 plus 2 million untimely deaths can be attributed to outdoor and indoor air pollution respectively – majority in the developing world.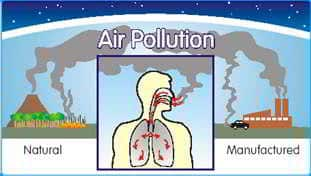 Source: http://www.atsdr.cdc.gov/general/theair.html
Read more about causes, symptoms, diagnosis and treatment of lung disease.
Reducing or minimizing exposure to air pollutants is the best way to prevent corresponding disease and deaths. Overall air pollution should be controlled by raising public awareness and public health agencies to implement measures that regulate vehicular emissions, dust, industrial and household chemicals. Individuals should also contribute to reducing, avoiding and countering air pollution. To reduce outdoor pollution use public transport, cycling and walking to commute, use energy-efficient appliances, avoid burning wood or trash and minimize harmful effects by masking your nose in heavy exhaust or smoke areas. To decrease exposure to indoor air pollution keep your living space clean (reduce insects, dust, molds, mildew), stay away from smokers, reduce usage of household chemical cleaners, spend minimal time in garages and install exhaust fans in kitchen and bathrooms.  Boost your body's immunity and ability to counter the harmful effects of air pollution by increasing physical fitness (exercise) and a diet rich in antioxidants (fruits and vegetables). Research shows that harmful effects of major air pollutants (PM10, NO2 and O3) were substantially lower in those who frequently ate fruits and soy.
 Indoor and outdoor air pollutants
 Source: http://www.alpineairtechnologies.com/presentation/
Air pollutants cause ear, nose and throat irritation, hay fever, allergies, bronchitis, asthma, cancer and reduced lung function. The table below lists the major contributors to indoor air pollution:
Indoor Pollutants

Pollutant Source(s)

Cooking and burning processes

[increase PM levels ≥10–50 above guideline values]

Biomass fuels, coal

Volatile organic compounds

Perfumes, hair sprays, furniture polish, glues, air fresheners, moth repellents, wood preservatives

Smoke

Tobacco

Pesticides

Farming, household

Biological substances

Pollen, dust mites, pet hair, fungi, parasites, bacteria

Formaldehyde

Carpets, particle boards, insulation foam

Asbestos

Construction

Radon

Poor ventilation
Major sources of outdoor pollution include burning fossil fuels (coal and oil) for daily heating, power generation and operating motor vehicles.
Read more about causes, symptoms, diagnosis and treatment of asthma.
Key players of air pollution
Latest WHO air quality guidelines, in 2005, provide air quality standards to control and lessen the health impact of air pollution. WHO recommends decreasing the concentration of particulate matter (PM10), ozone (O3), nitrogen dioxide (NO2) and sulfur dioxide (SO2).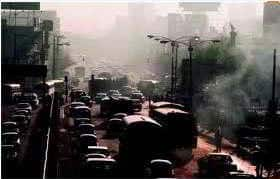 Source: http://the-top10.com/tag/india-polluted/
In India, PM10 levels are the biggest cause of health concern. In 2007, nearly 52% (63) cities were at critical PM10 levels (≥1.5 times limit). Higher PM10 levels were found in northern Indian cities with continuous increases in Mumbai, Faridabad, Lucknow, Bangalore and Delhi. PM10 is also strongly linked to prevalence of ADHD and acute respiratory infections. In recent times, SO2 levels have dropped in most cities except for some high-level areas such as Khurja, Nashik, Jamshedpur and Chandrapur. However, NO2 levels are on the rise all over India because of the rise in the number of vehicles. The table below lists the major contributors to outdoor air pollution:
| | | |
| --- | --- | --- |
| Outdoor Air Pollutant | Major Health Concern | Pollutant Source(s) |
| Suspended particulate matter (SPM, PM10, PM2.5) | Disrupts lung's gas exchange function and causes respiratory illness | Mixture of solid and liquid organic plus inorganic materials including sulfate, nitrates, ammonia, sodium chloride, carbon, mineral dust and water |
| Ozone (O3), ground level | Increases respiratory infections (colds, pneumonia), breathing difficulties and asthma | Part of photochemical smog produced by the interaction of sunlight and air pollutants |
| Nitrogen dioxide (NO2) | Long-term intake is toxic, reduces lung function and causes bronchitis in asthmatic children | Part of PM2.5 and O3, found in nitrate aerosols, produced by burning fuels, electricity generation plus vehicle engines |
| Sulphur dioxide (SO2) | 10 minute exposure decreases pulmonary function. Causes eye irritation and respiratory inflammation (coughing, infections, mucus secretion, asthma attacks, bronchitis) | Burning fossil fuels and industrial processes |
| Carbon dioxide (CO2) | Lowers oxygen levels, reduces respiratory and brain functions, causes vision defects | Burning coal, oil and natural gases |
| Carbon monoxide (CO) | Lowers blood oxygen levels, slows reflexes, increases confusion and sleepiness | Cigarettes plus burning petrol, diesel, and wood |
| Lead (Pb) | Damages nervous system in children | Petrol, diesel, lead batteries, paints, and colouring agents |
Government and health organization action
In India, air pollution prevention, control and reduction is governed by the Air (Prevention and Control of Pollution) Act passed in 1981.
In 2011, the Centre for Science and Environment (CSE), along with the Indian Council for Medical Research (ICMR) and the Indian Medical Association (IMA) organized a discussion between doctors, air quality regulators and civil society representatives. The guidelines emerging from this dialogue are published at http://cseindia.org/content/cses-press-release-dialogue-air-pollution-and-our-health.
Read more about causes, symptoms, diagnosis and treatment of cancer.
Air pollution information resources
WHO guideline values for major air pollutants
| | | |
| --- | --- | --- |
| Air Pollutant | Long-term mean value | Short-term mean value |
| PM2.5 | 10 μg/m3 annual | 25 μg/m3 24-hour |
| PM10 | 20 μg/m3 annual | 50 μg/m3 24-hour |
| O3 | - | 100 μg/m3 8-hour |
| NO2 | 40 μg/m3 annual | 200 μg/m3 1-hour |
| SO2 | 20 μg/m3 24-hour | 500 μg/m3 10-minute |