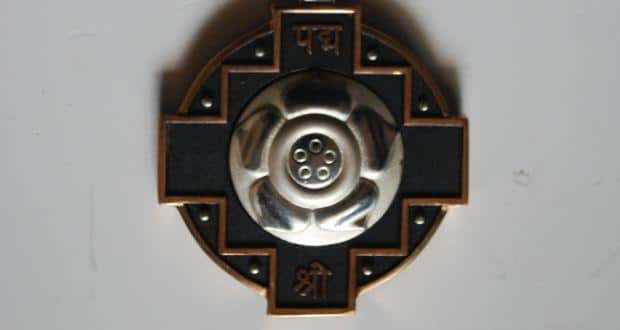 A day prior to the 65th Republic Day, the country's highest civilian and extremely prestigious Padma Awards for year 2014 were conferred to 127 recipients. Of the 127 recipients, 26 Padma shri recipients belonged to the health and medicine category. We offer the heartiest congratulations to all of them.
1. Dr. Kiritkumar Mansukhlal Acharya, Dermatology (Gujarat): The 64-year old dermatologist from Gujarat was bestowed the Padma Shri honour for his huge contribution and dedication towards leprosy eradication. Read more about Leprosy eradication.
2. Dr. Balram Bhargava, Medicine, Cardiology (Uttar Pradesh): Dr Balram Bhargava, member of the All India Institute of Medical Sciences in New Delhi for 22 years, is one of the pioneers of biomedical innovation and medical research in cardiology. The cost-effective platinum iridium coronary stent that he developed has been beneficial for several patients till now. He has also set up the Centre for Excellence for Stem Cell Studies, which pioneered the treatment of patients with dilated cardiomyopathy all over the world. Here's more information on different types of stents and their use in angioplasty. 
3. Prof. (Dr.) Indira Chakravarty, Health & Hygiene (West Bengal): Dr Indira, the Director General of Health Services and director of the All India Institute of Hygiene and Public Health in Calcutta, has changed the face of health and hygiene in India by setting up higher standards in food safety.
4. Ramakant Krishnaji Deshpande, Oncology (Maharashtra): Dr Deshpande, the head of thoracic surgical oncology at S L Raheja Hospital in Mahim, was the first doctor to establish thoracoscopic surgery at the Tata Memorial Hospital.
5. Prof. (Dr.) Pawan Raj Goyal, Medicine, Chest Disease (Haryana): Dr Goyal, a chest specialist, has received several honors for his impeachable qualifications his sharp diagnostic abilities. With his vast knowledge and expertise in this area he consults and is a renowned professor all over the world.
6. Prof. Amod Gupta, Ophthalmology (Haryana): The 63-year old opthalmologist is renowned for his path breaking work on diabetic retinopathy. His contribution to work on 'eye tuberculosis' is acknowledged throughout the world. Read more about causes, diagnosis and treatment of diabetic retinopathy.
7. Prof. (Dr.) Daya Kishore Hazra (Uttar Pradesh): Dr Daya Kishore Hazra has been conferred the degree of emeritus scientist at Agra Medical college and now receives the highest civilian honour of the country.
8. Prof. (Dr.) Thenumgal Poulose Jacob, Vascular Surgery (Tamil Nadu): Dr Thenumgal Poulose Jacob has been recognised for his contribution to vascular surgery. Read more about new surgical system for vascular surgeries.
9. Prof. (Dr.) Shashank R. Joshi, Endocrinology (Maharashtra): The leading endocrinologist and consultant at Lilavati Hospital in Bandra, Mumbai has been acknowledged for his extensive research in diabetes and hypertension and significant contribution to medical education and research. 
 10.   Prof. Hakim Syed Khaleefathullah, Unani Medicine (Tamil Nadu): Hakim Syed is a renowned consultant in Unani medicine. He has been bestowed the honor for his brilliance, professionalism and dedicated efforts in research that have enriched the field of Unani Medicine. Find here more articles on Unani medicine.
11. Dr. Milind Vasant Kirtane, ENT Surgery (Maharashtra): Another Mumbaikar Dr Milind Kirtane, who continues his practice at Hinduja Hospiltal in Mahim, is the most senior ENT surgeon our country has. He was the first surgeon in Mumbai who performed cochlear implant surgeries for patients suffering from hearing loss. Here's more information on low cost cochlear implants.
12. Dr. Lalit Kumar, Oncologist (Delhi): Another professor from All India Institute of Medical Sciences, Dr Lalit heads the Department of Medical Oncology there and has contributed a lot to provide low-cost medical facilities to patients.
13. Dr. Mohan Mishra, (Bihar): Dr Mishra is an eminent physician who did an extensive research in kala-azar and is the author of several books in the non-fiction category. His account on the use of Amphotericin B for kala-azar is world recognised. Read more about different ways to fight kala azar.
14. Dr. M. Subhadra Nair, Gynecology (Kerala): Dr. Subhadra Nair, was the Head of Gynaecology and Obstetrics department, SAT hospital and the head of the department of obstetrics & gynaecology at Trivandrum Medical College. 
15.   Dr. Ashok Panagariya, Neurology (Rajasthan): Dr. Panagariya is a professor in neurology and President of the Indian Academy of Neurology. His work on neuromyotonia and nerve cells has been acclaimed world-wide. One of the research papers on a rare neurological disorder written by him has been ranked as the first among top ten contributions in this category by the Biomedical Library.
16. Dr. Narendra Kumar Pandey, Surgery (Haryana): Dr Pandey, the visionary behind the Asian Institute of Medical Sciences, has been earlier awarded with the highest honour in medicine by the Government of India.
17. Dr. Sunil Pradhan, Neurology (Uttar Pradesh): Dr Sunil Pradhan, leading neurologist of the Sanjay Gandhhi Post-graduate Institute of Medical Sciences (SGPGIMS), has made a remarkable contribution to early detection muscular dystrophy through his research. The technique he deviced for early recognition is also called as Pradhan's method. Here's a breakthrough news on muscular dystrophy.
18. Dr. Ashok Rajgopal, Orthopaedics (Delhi): Dr Rajgopal is a well known orthopaedcian and knee replacement surgeon who has conducted more than 23,000 surgeries till now. Read more about knee replacement surgery.
19. Dr. Kamini A. Rao, Reproductive Medicine (Karnataka): Gynecologist Kamini Rao is a prominent leader in reproductive health. She gave the country its first child born by Semen Intra Fallopian  Transfer Technique (SIFT). Here's a list of other leading women in healthcare sector.
20. Dr. Sarbeswar Sahariah, Surgery, (Andhra Pradesh): Right from his accomplishment with the first successful renal transplantation that he performed at PGI, Chandigarh in 1973, he never left the path of victory in medical sciences. He has performed over 3,000 renal transplantation surgeries since then. Read more about kidney transplants.
21. Prof. Om Prakash Upadhyaya, Medicine, Punjab: Joining the list of Padma shri awardees is Prof. Om Prakash for his efforts in the development and progress of Ayurvedic medicine education and research.
22. Prof. (Dr.) Mahesh Verma, Dental Science (Delhi): His contribution to the field of dental health is incomparable. With perseverance as the only aspect in mind, he was successful in transforming Maulana Azad Medical College, a small dental school, into a renowned institute for dental treatment that caters to 1,200-1,500 people daily.
23. Dr. J.S. Titiyal, Medicine, Opthalmology (Delhi):  A graduate from All India Institute of Medical Sciences, Dr Titiyal was the first to perform a surgical procedure called INTACS for complex corneal problems.  
24. Dr. Nitish Naik, Cardiology, (Delhi): Dr Naik, a cardiologist in Delhi has been recognised for his contribution to the field of cardiology.
25. Dr. Subrat Kumar Acharya, Gastroenterology (Delhi): Dr Subrat Acharya, a 62-year old gasteroenterologist, is renowned as a liver transplant physician. He has has a post doctorate degree from AIIMS, New Delhi. Read more about liver transplants.

26. Dr. Rajesh Kumar Grover, Oncology (Delhi): Another oncologist Dr Rajesh Kumar Grover also joins the list of Padma shri recipients in the health and medicine sector with his amazing developments in cancer research and establishments of treatment facilities for cancer patients. 
For more articles on diseases and conditions, check out our diseases & conditions section and for videos, check out our YouTube Channel. Don't miss out on the latest updates. Follow us on Facebook, Twitter and Google Plus.