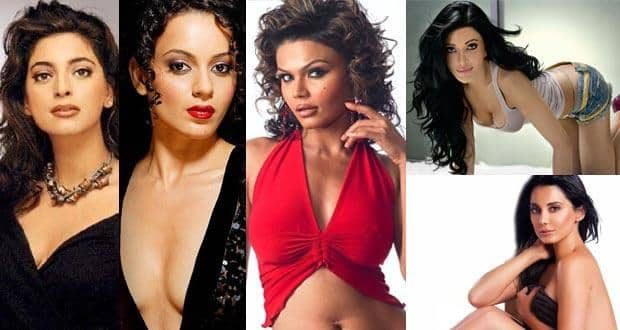 Various Bollywood celebrities have gone under the knife to correct their beauty flaws. While many have been lucky and look better than their earlier self, a few have not been so lucky and had to bear the brunt of a plastic surgery gone wrong. Here are a few celebrities whose plastic surgeons messed up their surgery and they ended up looking worse than before.
Koena Mitra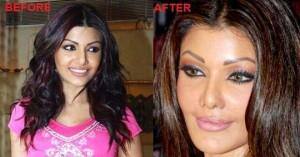 She made an impact with her dance moves in Saaki Saaki and was touted as the next big item girl to watch out for. And then she had a nose job that went horribly wrong, the effects of which haunt her till today. She took the bold step of coming out with it and did not shy away from the media. While some applauded her for her braveness, she became a laughing stock for many. All Koena Mitra wanted was a sharper nose but it ended up looking so botched and disfigured that she could hardly even smile after that. After a few more corrective surgeries, she is finally looking her normal self, with a slightly sharper nose after all. Also read: BOTOX – Things you should know
Rakhi Sawant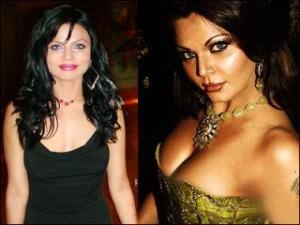 It is a well-known fact that Rakhi Sawant has undergone various cosmetic surgeries to make herself more appealing but now looks more plastic than a real person. She once confessed on a popular talk show that a doctor could give you what god hasn't thereby confirming to have gone under the knife. From liposuction to breast implants to shaping the jaw line, cheeks etc, she has been there, done that! The surgeries might have gone all right but the effects so many of them has resulted in given her a very not-so-real-looking appeal which even good makeup cannot hide.
Read more about the TUBA procedure for breast enhancement.
Minissha Lamba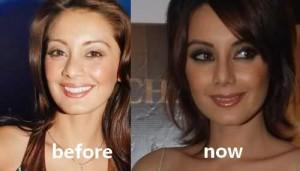 Her debut in 2005 with Yahan added her to the list of must-watch out celebrities and Minissha was cast in the image of the girl-next-door. In order to break free from this stereotype, she underwent plastic surgery which was quite evident in her flick Kidnap. Her nose looked reshaped, her breasts looked enhanced and her body structure was leaner too. It might be a case of excessive gymming but the nose certainly looked touched up. If sources are to believed, she did go under the knife for it. Her looks are devoid of their innate cuteness now and appear to be too made-up than real. By the way, have you read about these really weird cosmetic surgeries?
Kangana Ranaut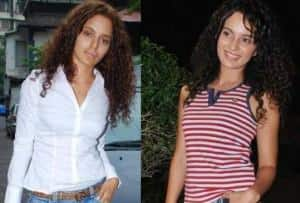 She is known for her brilliant and hard-hitting performances and even won many awards for it but looks like she wasn't too pleased with her beauty and wanted to enhance it even further. So like others, she too took the route of undergoing plastic surgery. Speculations are rife that she had breast implants too after her sudden fuller looking shape but she brushed it off saying it was due to her new workout routine et all. But her lip surgery just cannot be denied. There is a marked difference between her now fuller lips and the earlier pencil-thin lips. The popular opinion is they don't look that good and one can see the poorly done job on her face.
Also read: Understanding rhinoplasty: Plastic surgery for the nose
Juhi Chawla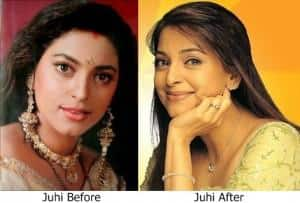 Juhi who is known for her bubbly nature and cute smile also did not like the shape of her original nose. She too took the support of cosmetic surgery to undo her flaw. But not everyone gets the result they want and that happened with Juhi too as is the case with all the above mentioned actresses. She looked just fine before the surgery and now her nose looks a bit botched on the side. It is a clear case of plastic surgery gone wrong.
Dr Debraj Shome, a well-known facial plastic surgeon says that many people come with very unrealistic expectations and think that plastic surgeons are gods who can make them look their idol, the common one being Angelina Jolie. He says that all we can do is make you a better version of yourself and work on your flaws.
One of the main reasons why these surgeries go wrong horribly is because people go for it without making an informed choice. It is also a result of poor advice and low awareness. It is vital that one chooses the right doctor. "Assess them before you go under the knife, don't just jump into it as there are many quacks out there who just want to mint money," he says.
Even if you are in the best of hands, there are slight chances that things can go wrong which may not be in the surgeon's control. The common mindset people have is – nothing can go wrong with me, these things happen just to others. "It has to be an informed choice taken by you after considering the pros and cons carefully, given that it is your body and your life! So, do not blame the 'doctor' or the procedure, instead choose the right doctor and the right procedure for you – make an informed choice," he advises. 
Also read: Plastic surgery – the positives and the pitfalls
Tired of reading? Check out our YouTube Channel